Not too long ago I asked you guys what kind of recipes you were interested in seeing on the blog. I got a lot of requests for simple and easy meals, as well as more variations on cooking tofu. With this in mind, I wanted to combine these two into one easy and delicious recipe.
Tofu is one of my favorite plant proteins because it is so versatile and sucks up any flavor you're giving it. I've done a lot of asian variations on tofu but wanted to see if I could do of an Italian feel. I already have a recipe for balsamic tofu but wanted to make this a little more fresh and full of different herbs.
I also thought it would be fun to add some vegetables and potatoes to this dish to make it a complete meal.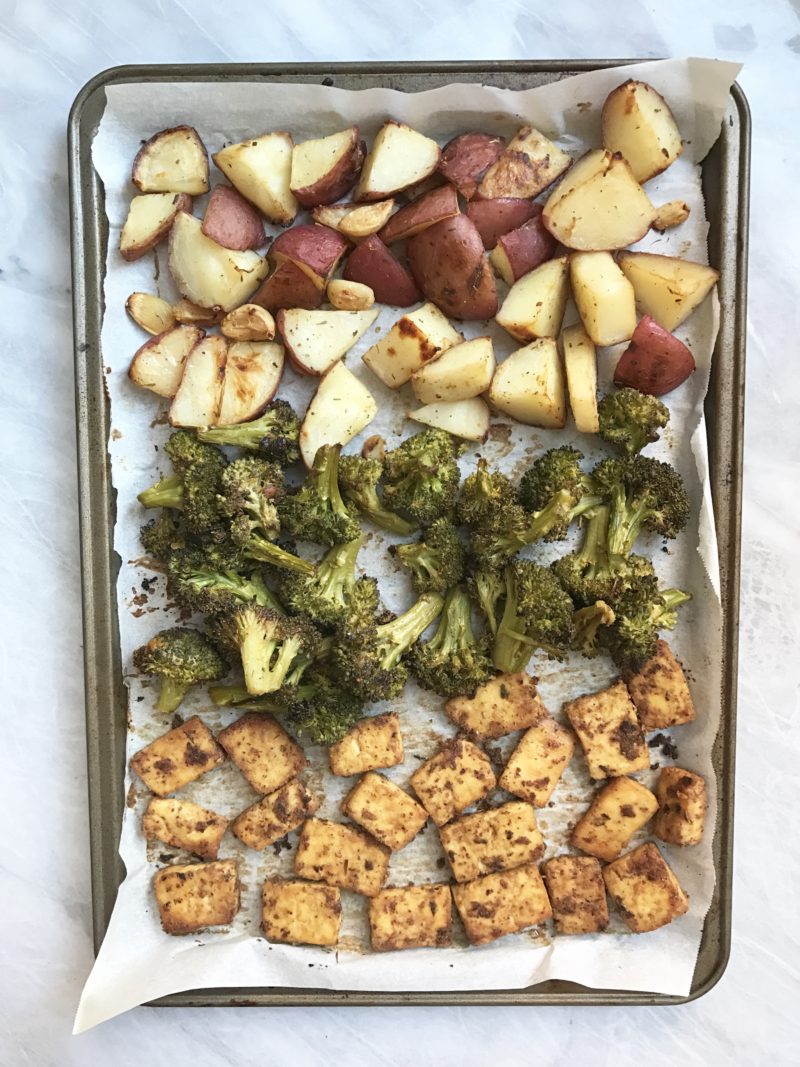 This is a great dish to whip up and is so incredibly flavorful. I really am not the biggest fan of keeping the same flavor throughout all the sides but keeping them very similar. I like when my dishes have their differences in flavor but come together perfectly.
I always like to cook my veggies separately, because for me I need the flavors separate. Does this make sense?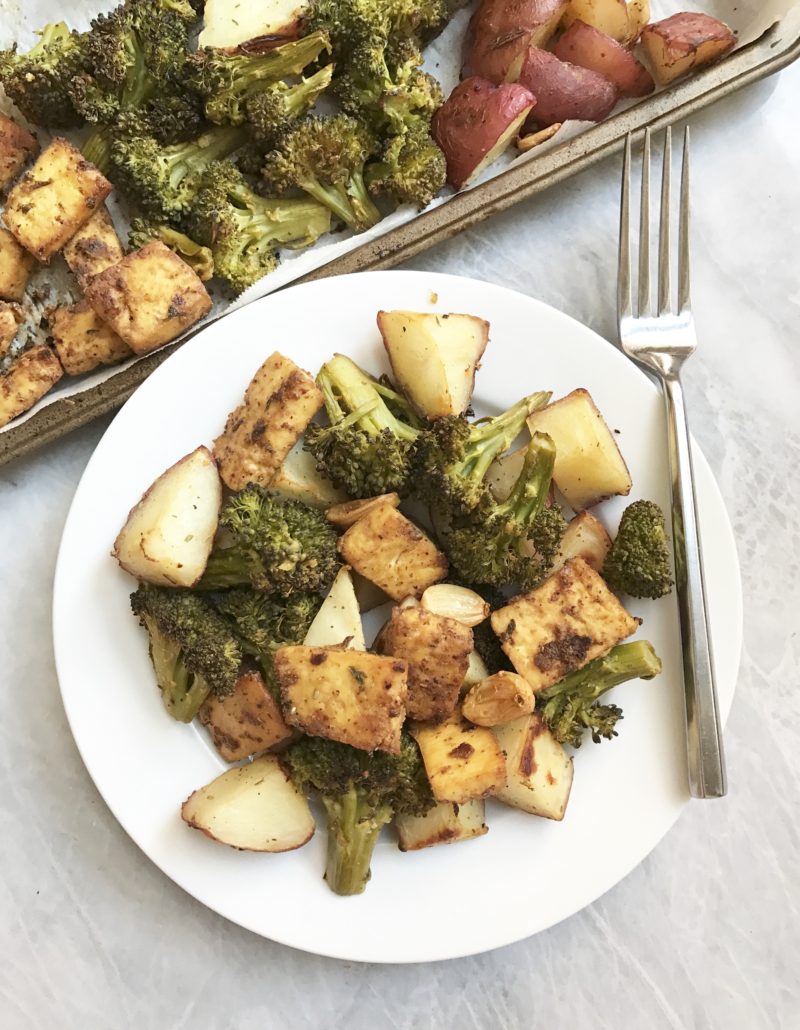 This dish is so filling and packed with so many delicious flavors. I really loved the way I cooked this tofu and intend on doing it a lot in the future. It would also be great thrown in pastas or salads. I wanted this to resemble the classic "lemon chicken" dish but cruelty free and 10x healthier.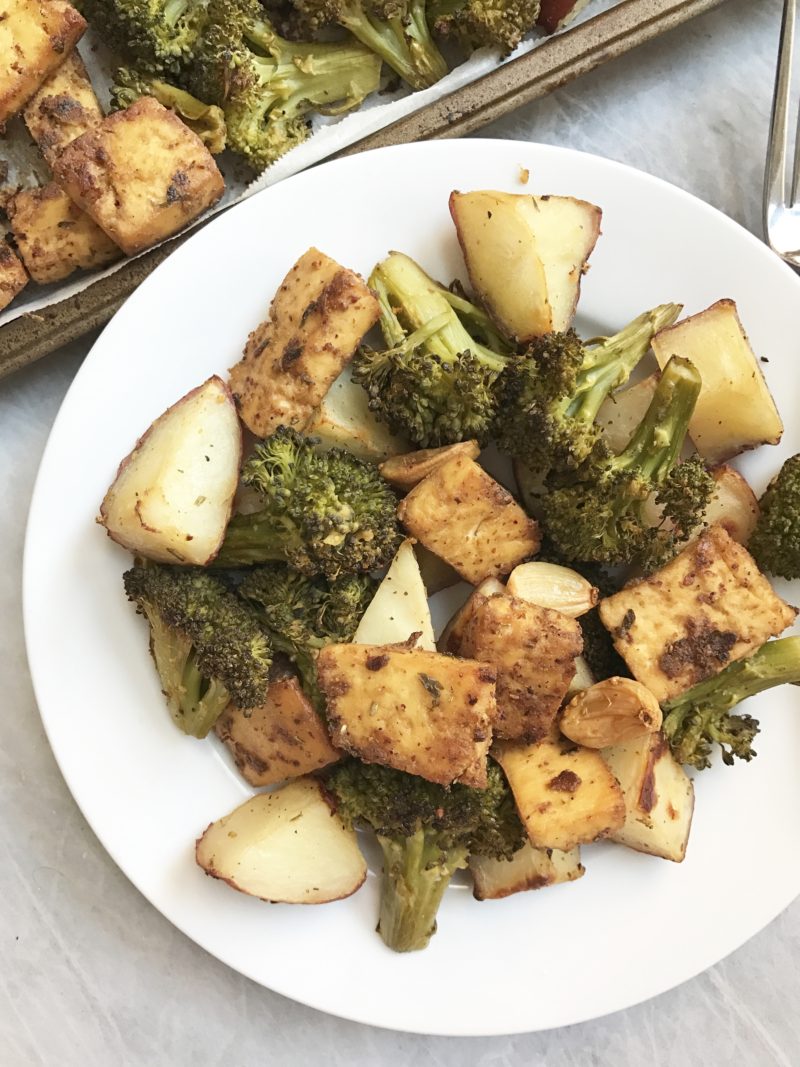 I'm so happy with how this turned out and I know you'll love it!
If you ever make any of my recipes, don't forget to tag me on Instagram @Plantbasedjane so I can see!
One Pan Tofu & Veggies

Ingredients
For Tofu:
1 Package Extra Firm Tofu (14 oz)
2 Tablespoons Olive Oil
1 Tablespoon Balsamic Vinegar
1 Tablespoon Dijon Mustard
Juice of 1 Lemon
3 Garlic Cloves, Crushed
1 Sprig Rosemary
1 Sprig Thyme
Salt & Pepper To Taste
The Best Roasted Broccoli:
1 Large Head of Broccoli
1/3 Cup Nutritional Yeast
1/2 Tsp Garlic Powder
Salt & Pepper To Taste
Potatoes:
4 Small-Medium Red Potatoes
8 Garlic Cloves (I love Garlic..You don't need to add this much if you aren't a fan!)
Juice of 1 lemon
1 Sprig Rosemary
1 Sprig Thyme
Salt & Pepper To Taste
Instructions
Begin by pressing the water from your tofu and cutting it into 1 inch rectangles or squares. Add all of the marinade ingredients together and pour over tofu. Let marinade for up to one hour.
Pre-heat your oven to 400 degrees Fahrenheit.
Bring a large pot of water to a boil.
Wash and cut your potatoes into bite sized pieces and boil for 10 minutes or until tender.
Add your potatoes to a bowl and add in your lemon juice, garlic and seasonings. I like to leave the cloves whole because they roast and become so tender and delicious.
After your tofu is done marinating, add it to a large baking sheet lined with parchment paper with your potatoes. Put in the oven and let cook for around 30-40 minutes flipping halfway.
Meanwhile, in a bowl combine your broccoli, nutritional yeast and seasonings and set aside.
After 30-40 minutes, take out and add your broccoli. I do this so that the broccoli doesn't burn. Unless your broccoli well roasted, you can cook it the entire time with the tofu and potatoes.
Another 20-30 minutes later, take and out and enjoy!