The best part about Thanksgiving, to me, is mashed potatoes! Seriously, who doesn't love potatoes? Mashed, roasted, steamed, fried…Give me them all. Before going Vegan we would always buy these pre-made (I know…We're terrible people) maple whipped sweet potatoes just because they were SO good! Since I can't eat them anymore, I wanted to try to recreate them on my own and I must say…they're pretty epic.
We also have some roasted garlic mashed potatoes because that combination is just glorious. No other way to really describe it.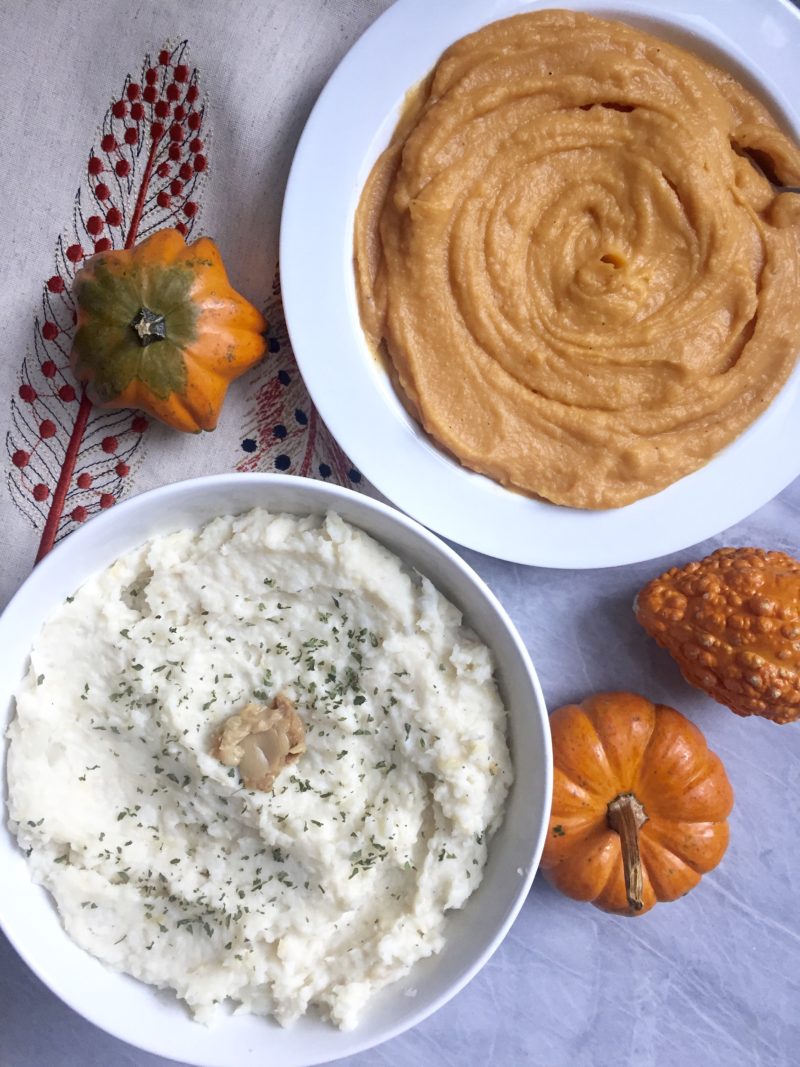 Roasting Garlic is actually SUPER SIMPLE! It also tastes so delicious! It goes great with mashed potatoes and just adds a different dimension of flavor that is just so epic.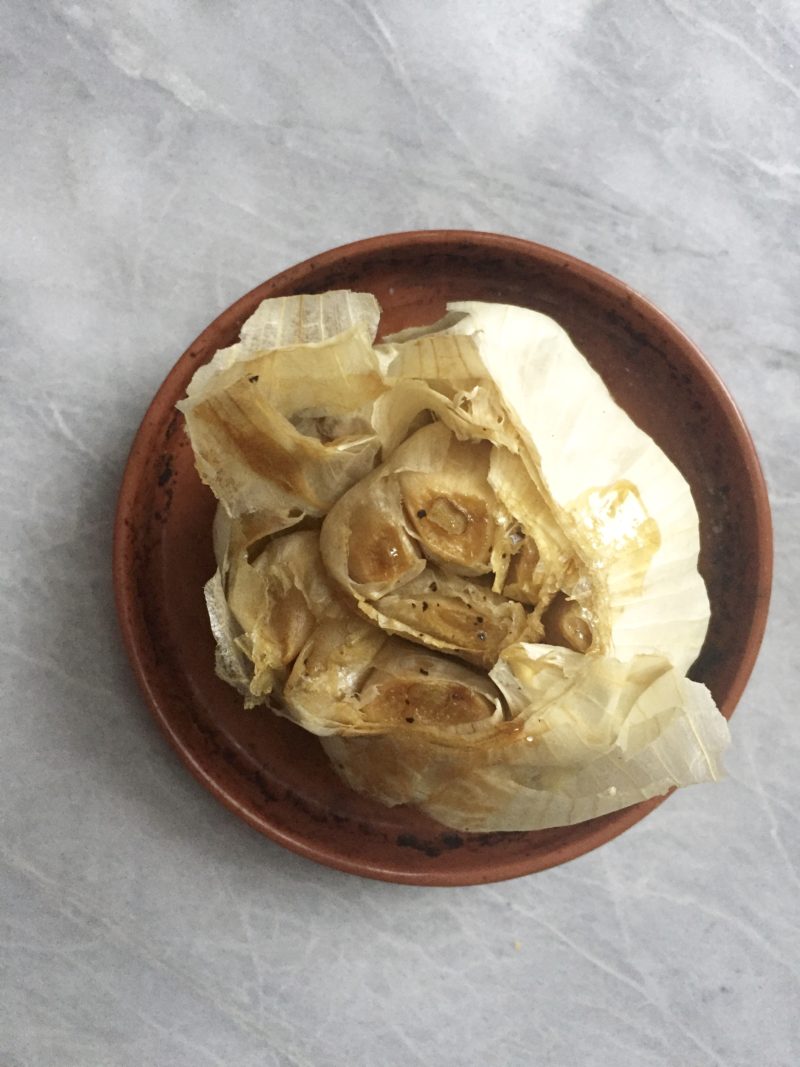 It also really does mash well in the potatoes because it is practically butter when it comes out and falls apart.
I wanted to do both sweet potatoes and regular because who doesn't love options? We always have both at our Thanksgiving and I wanted to give you guys the option to do the same!
Sweet potatoes and maple syrup match together so well! When whipped together in a food processor it just tastes like a cloud!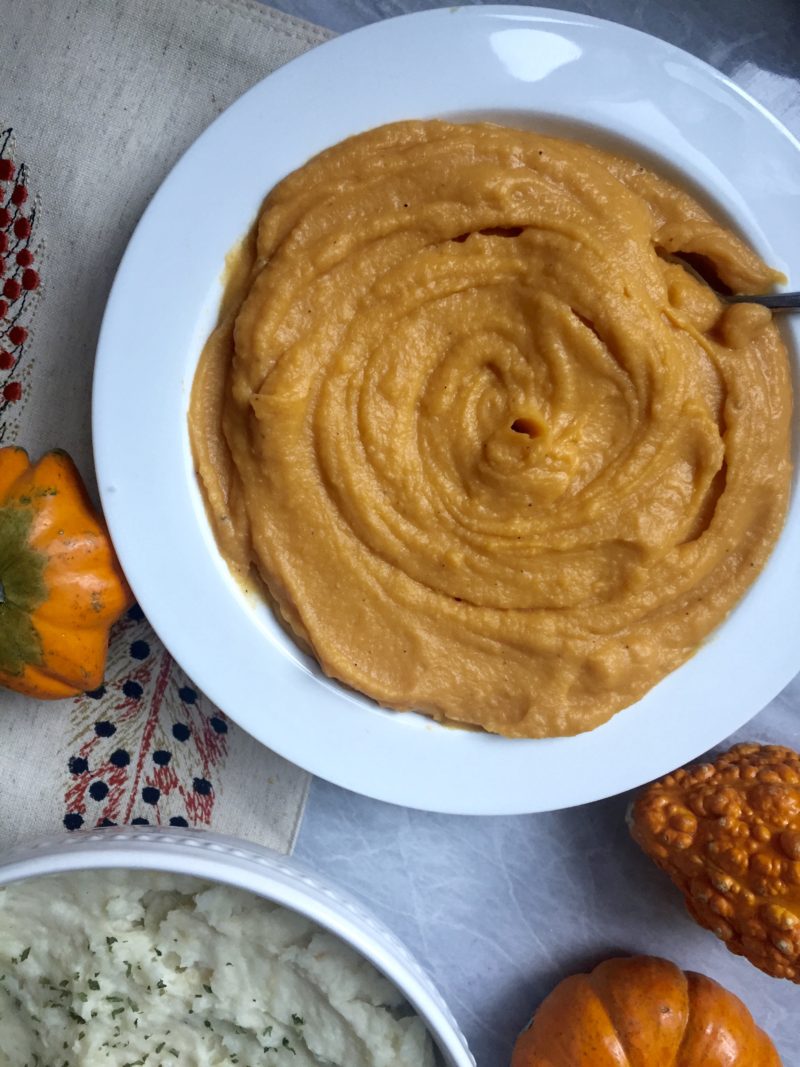 And as always, my true favorite is just the traditional mashed potatoes! However, paired with roasted garlic it becomes absolutely life changing!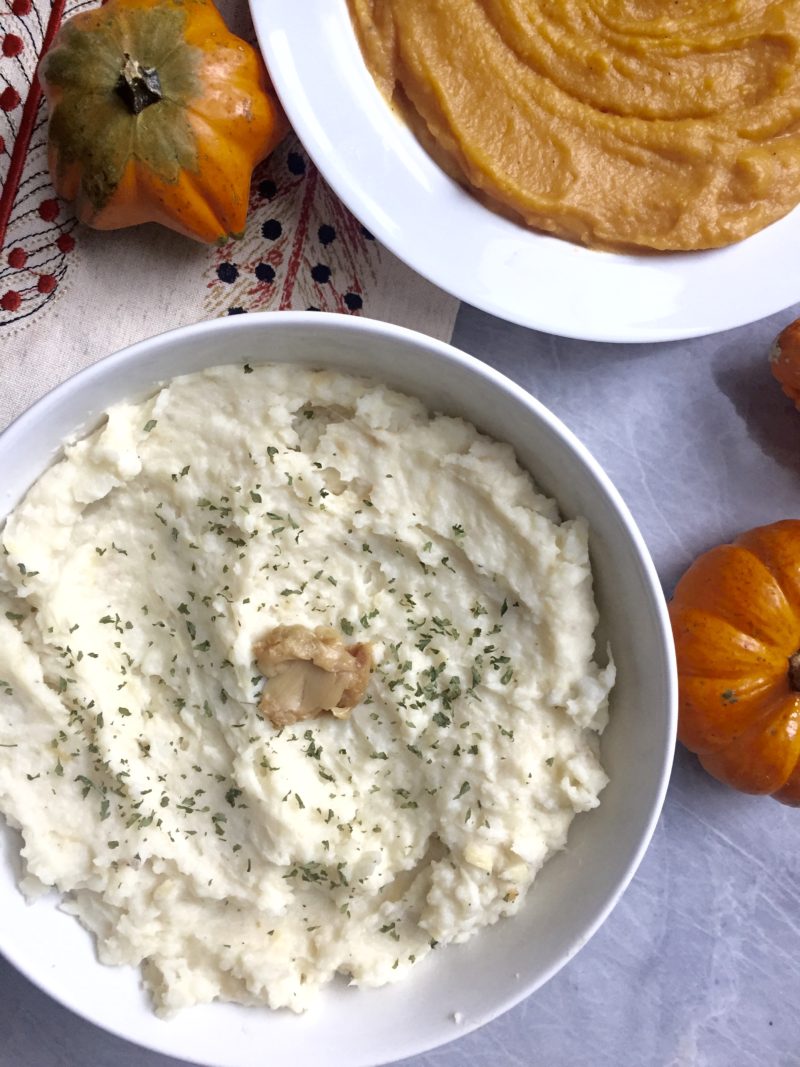 If you make this recipes, don't forget to tag me on Instagram @plantbasedjane so I can see!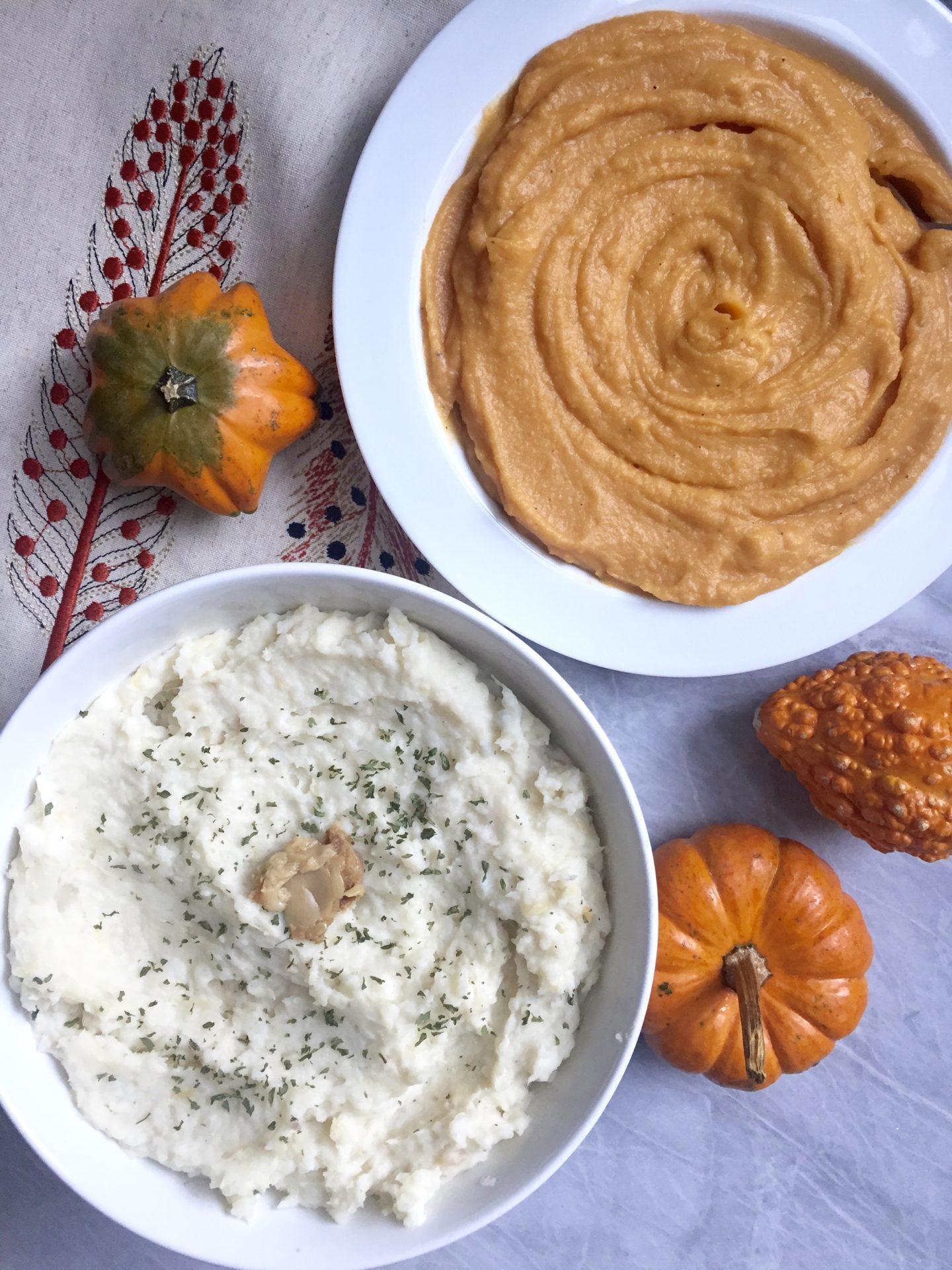 Mashed Potatoes: Two Ways
2016-11-19 07:34:58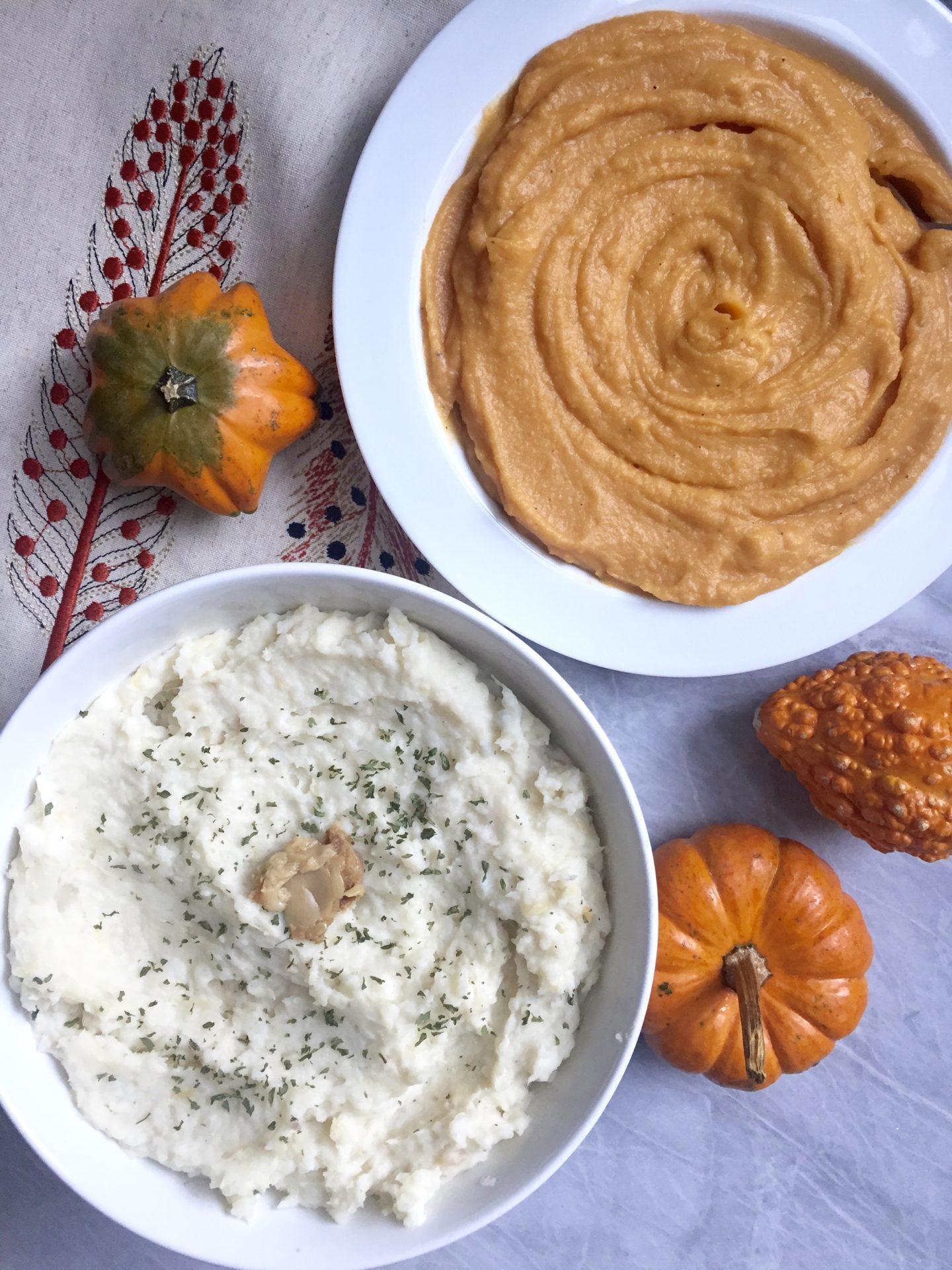 Whipped Sweet Potatoes
2 Pounds Sweet Potatoes (Around 3-4 medium)
1/4-1/3 Cup Soy Milk
3 Tablespoons Maple Syrup
1/2 Tsp Salt
1/4 Tsp Pepper
Roasted Garlic Head
1 Head Roasted Garlic
1 Tsp Extra Virgin Olive Oil
Roasted Garlic Mashed Potatoes
3 Pounds Red Skinned Potatoes
1 Head Roasted Garlic
2 Tablespoons Vegan Butter
1/3-1/2 Cup Soy Milk
1 Tsp Salt
1/4 Tsp Onion Powder
1/4 Tsp Pepper
First, Roast The Garlic
Prep Time: 2 minutes Cook Time: 40 Minutes Total time: 42 Minutes
Pre-heat oven to 400 degrees Fahrenheit
Cut 1/2 inch off of garlic head to expose tops of garlic heads and drizzle with olive oil. Wrap tightly in aluminum foil and roast for 35-40 minutes.
Let cool before using.
Garlic Roasted Potatoes
Start by peeling the skin off and cutting all potatoes into the same size and add to a large pot of boiling water. Let boil until fork tender.
Drain potatoes and add them back to the empty pot. Once your garlic is cooled, it'll be easy just to squeeze the heads out of the skin. Mash all the heads in a plate or bowl and transfer them to the potatoes.
Add half of your butter & soy milk and mash until combined. Add the rest of milk, butter, and spices and with a potato masher, mash to combine. At this point you can add more soy milk or butter if need be.
Transfer to boil and top with dried parsley (Optional!)
Maple Whipped Sweet Potatoes
Peel and cut potatoes into the same size and add them to a large pot of boiling water. Cook until fork tender.
Drain potatoes and add them to a food processor. Puree with maple syrup, soy milk, salt & pepper. Adjust seasonings to taste!
Plant Based Jane https://plantbasedjane.com/