Jump to recipe
Try this delicious and easy pasta dish.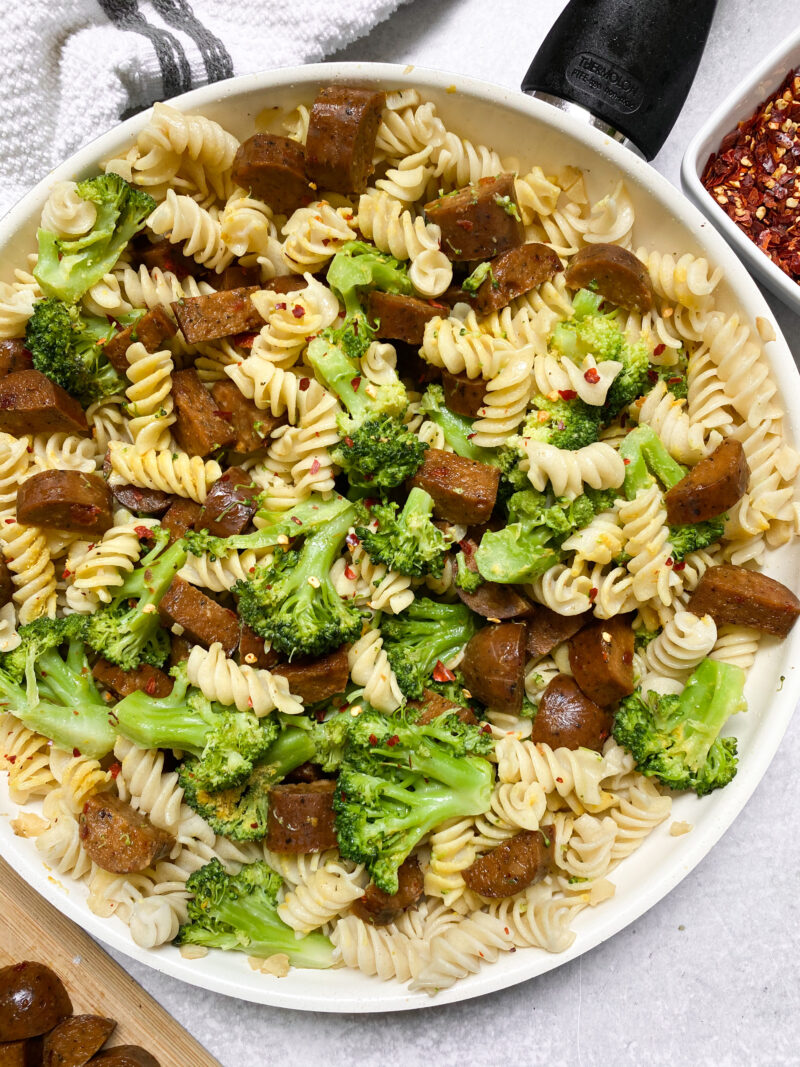 There is nothing that I love more than pasta.
I was trying to brainstorm new recipes and I realized that I haven't done that many recipes featuring vegan sausage. I never ate sausage before I went vegan. It was something I didn't care for. That changed when I went vegan.
I fell in love with all the vegan sausage options! I used the Tofurky Italian sausage in this recipe but of course you can use whatever brand you like (although I really recommend this one).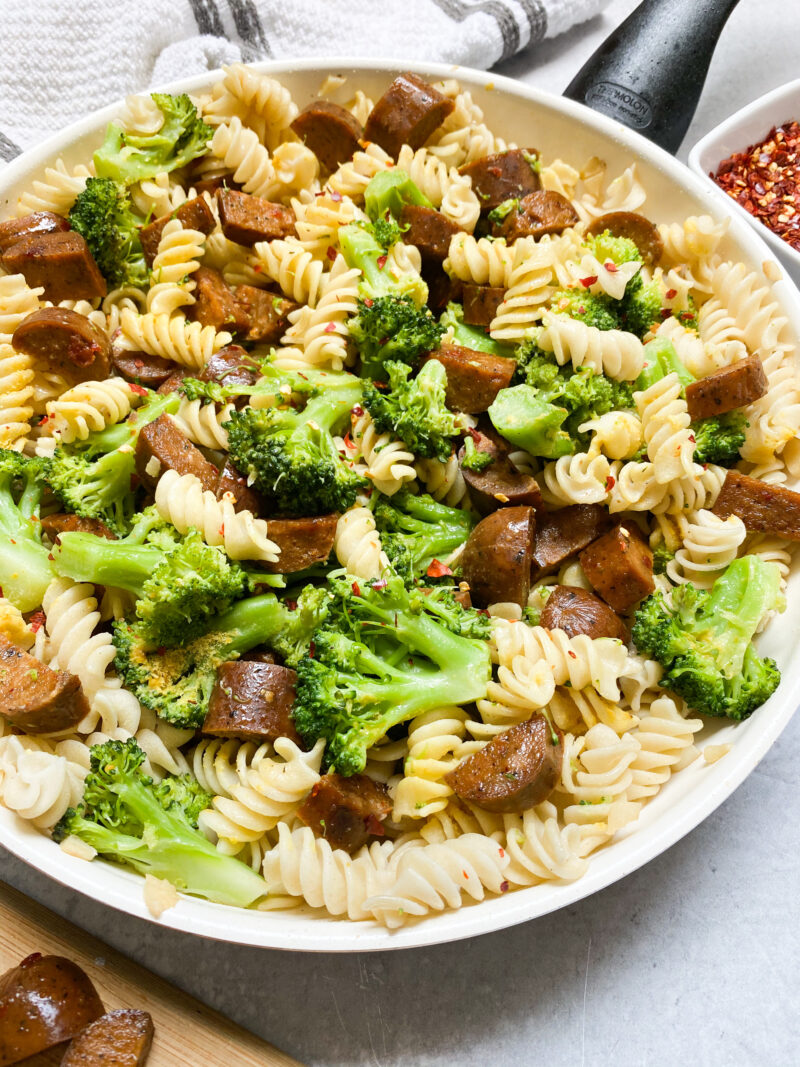 What do you need for this recipe?
Vegan sausage. One of the stars of this dish. You can use any vegan sausage you like but as I previously stated I really enjoy the Italian Tofurky sausage.
Broccoli. The other component to this dish. Broccoli is my favorite vegetable of all time and I think it works fantastic in this recipe.
Butter & Olive Oil. I don't need to explain. It just helps make it taste fantastic.
White Wine. I used a Pinot Grigio and I recommend using one too, or another dry white wine. If you don't want to use alcohol in this dish then subbing with vegetable broth is a good alternative. It won't taste the same, but it will still be delicious.
Garlic. Again, does this need an explanation?
Nutritional Yeast. Helps give it a cheesy and savory flavor. An essential ingredient in vegan pasta dishes.
Red Pepper Flakes. For a little spice!
PASTA! You can use regular, gluten free, the world is your (vegan) oyster.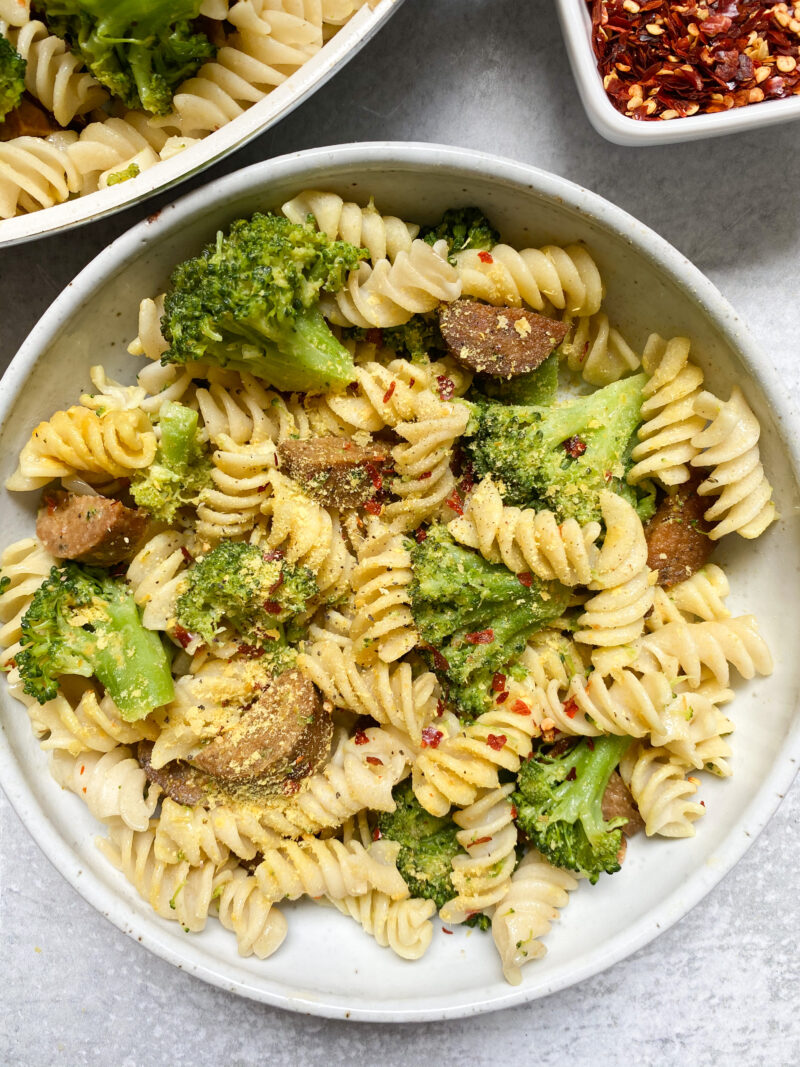 I hope that you enjoy this recipe! If you make any of my recipes, don't forget to tag me in your photos on IG or stories @plantbasedjane
Sausage & Broccoli Pasta

Ingredients
8oz pasta of choice
2 1/2 cups broccoli florets
3 Italian style vegan sausages
1 tablespoon vegan butter
1 tablespoon olive oil
4 gloves garlic, minced
1/4 cup dry white wine
1/4 cup nutritional yeast
1/2 cup reserved starchy pasta cooking water
1/4 tsp red pepper flakes
Instructions
Bring a large pot of water to a boil. Cook pasta and add broccoli in the last 5-6 minutes of cooking time. Drain and set aside.
In a large sauté pan, cook your sausage according to package instructions and set sausage aside.
In the same sauté pan, on medium heat, add in your butter and olive oil. Once heated, add in your garlic cloves and wine. Cook, stirring constantly, until the wine has reduced. Around 3-4 minutes. Add in your cooked pasta, broccoli and sausage. Add in your nutritional yeast. Mix until combined. Slowly add in your Reserved pasta water and mix until everything is well incorporated. Season with salt and pepper to taste. Serve and top with red pepper flakes.