Jump to recipe
I love to create new recipes featuring chickpeas. I love the creaminess of this dish and how versatile it is. Serve it with some rice, quinoa, zoodles or pasta. It will for sure be a winner!
Back with another chickpea recipe! I don't think some people realize just how versatile chickpeas really are. Yes they're great on salads, chickpea "tofu" sandwiches, and other amazing dishes…but there are SO many other uses for chickpeas.
I have another recipe that involves stewed chickpeas, and it's this quick & easy chickpea chili stew . This recipe is a little different, but they're both some of my favorites.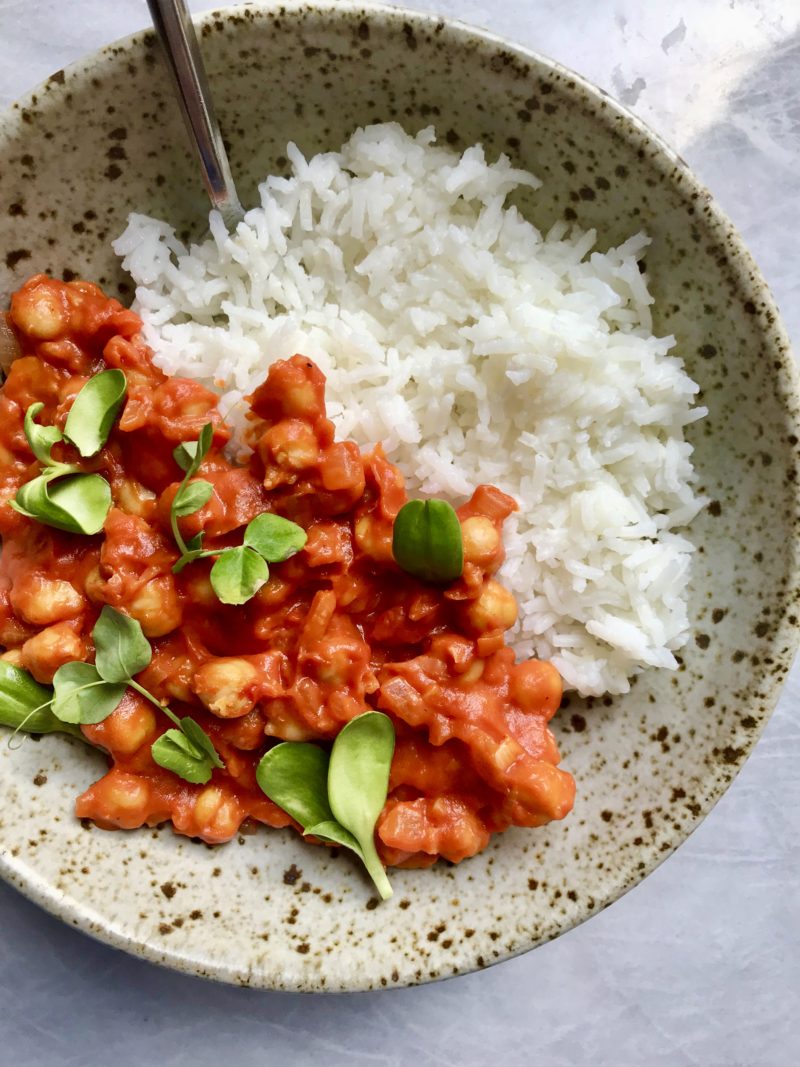 Also, how cute are these pea sprouts and sunflower sprouts? I am pretty sure that's what they're called – my family friend grows them in her own garden in upstate NY and not only do they taste amazing but they make dishes so much cuter!
Of course you could serve this with anything, but I loved it with rice. Serve it with other veggies, pastas, etc. The creaminess of the sauce reminds me of vodka sauce – minus the vodka. It made me really want to create a vegan vodka sauce! Coming in the future!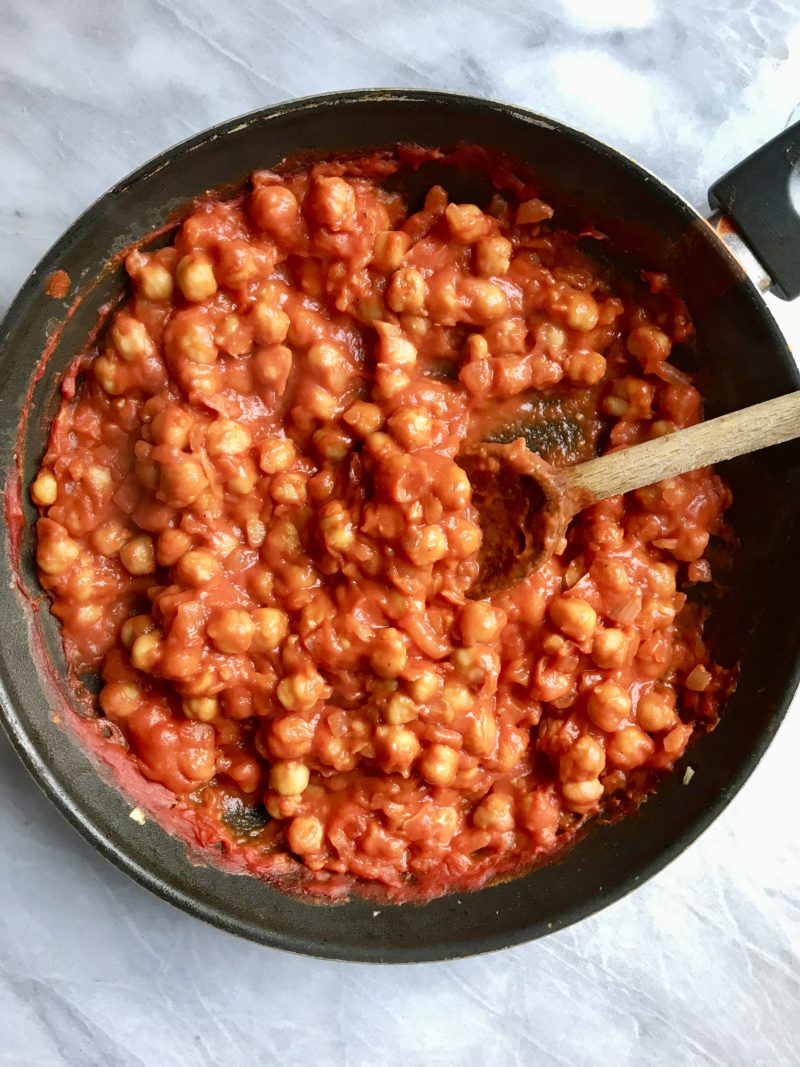 This is a one pan recipe with so much flavor. I know that you guys will love it.
It is also great for meal prepping! A win – win.
I also have many other chickpea recipes on my blog like sesame chickpea, orange chickpeas, and maple sriracha. After seeing some of you guys suffer from soy allergies, or just simply do not like tofu, it's made me want to create more bean recipes. Chickpeas are clearly my favorite, but I am definitely up for creating more in the future with other types of beans.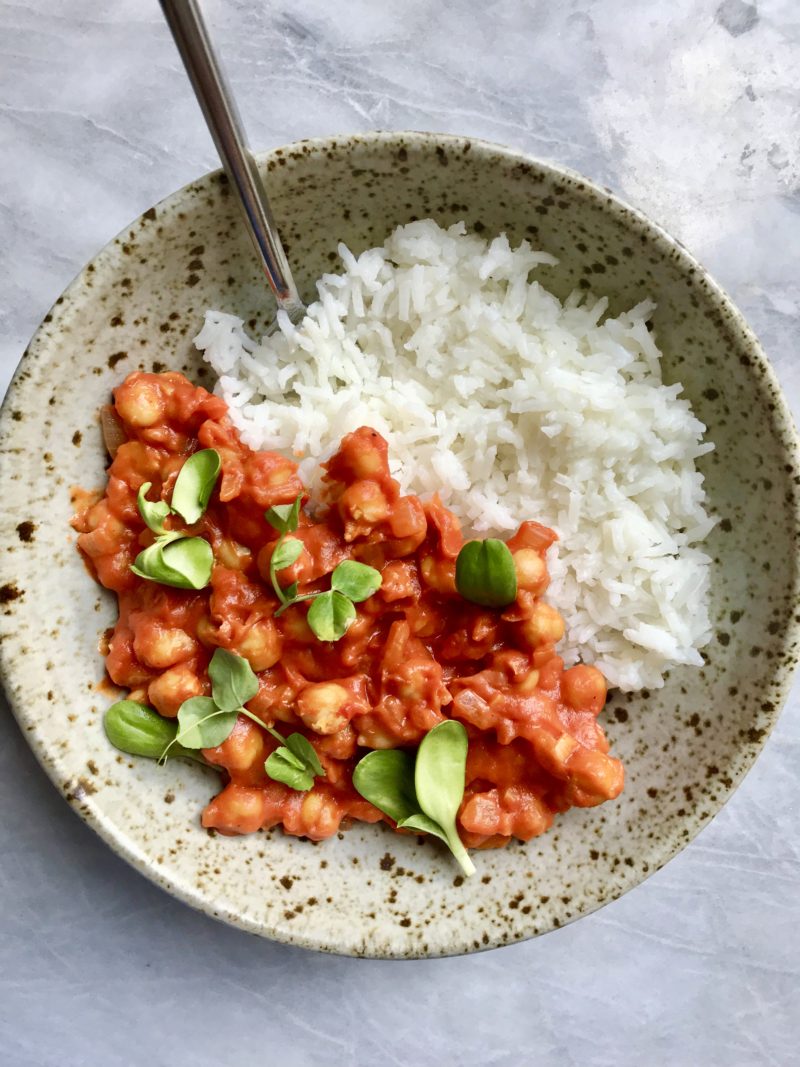 I hope that you enjoy this recipe!
If you make any of my recipes, don't forget to tag me on Instagram @Plantbasedjane
Creamy Tomato Chickpeas

Ingredients
1 15oz can chickpeas
1/2 small white onion
1-2 garlic cloves
1 tablespoon flour (gluten free works too)
1 cup tomato sauce (no salt added)
1/4 cup lite coconut milk (from a can)
1 tsp paprika
1 tsp vegan sugar
1/2 tsp salt
1/2 tsp pepper
Instructions
Drain and wash your chickpeas. Dice your onions and crush your garlic clove(s).
In a pan, heat a little oil and add in your onions. Cook for 3-4 minutes, or until translucent. Add in your garlic and cook another 30 seconds. Add in your chickpeas and cook for 1 minute. After a minute, add in your tablespoon of flour and mix well, making sure to coat everything in the pan, for another minute.
Add in your tomato sauce, coconut milk, spices and sugar. Bring to a boil and then simmer for 5-6 minutes or until everything has thickened up. Serve!