If you're in need of a cozy & comforting meal, you must try this delicious vegan & nut free baked ziti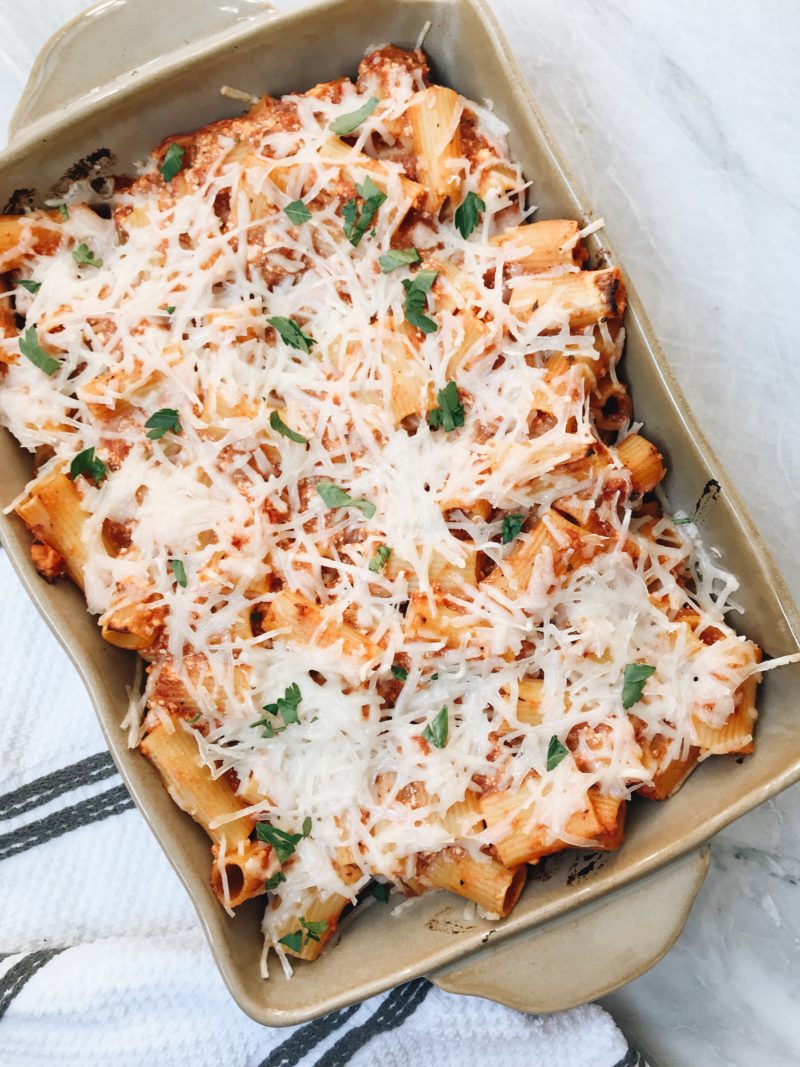 I used to eat baked ziti ALL the time before going Vegan. It was my go to dish at Italian restaurants because I loved the combination of the creamy ricotta, tomato sauce & melty mozzarella cheese. Why shouldn't I be able to enjoy it now even though I'm Vegan? So I decided to create this amazing Vegan & nut free version that still has all the flavor and comfort as your traditional baked ziti!
Instead of ricotta we have the creaminess from tofu ricotta. it's ridiculously easy to make and has limited ingredients. In replacement of mozzarella we have the Daiya Mozzarella Cutting Board Shreds. I am absolutely obsessed with Daiya and their Vegan cheese as well as their other products. The Cutting Board Shreds melt perfectly and they're also nut free, which can be difficult to come by in many Vegan cheeses on the market.
We have TWO layers of the cutting board shreds making it extra cheezy and packed with flavor.
I think it's safe to say that pasta is my favorite carb. I love to share pasta recipes and I know that this one is a winner. Vegan cheese that actually tastes good can be difficult, but the Daiya shreds really makes this recipe. Mozzarella is vital in making a good baked ziti and this definitely is the trick for making this absolutely delicious!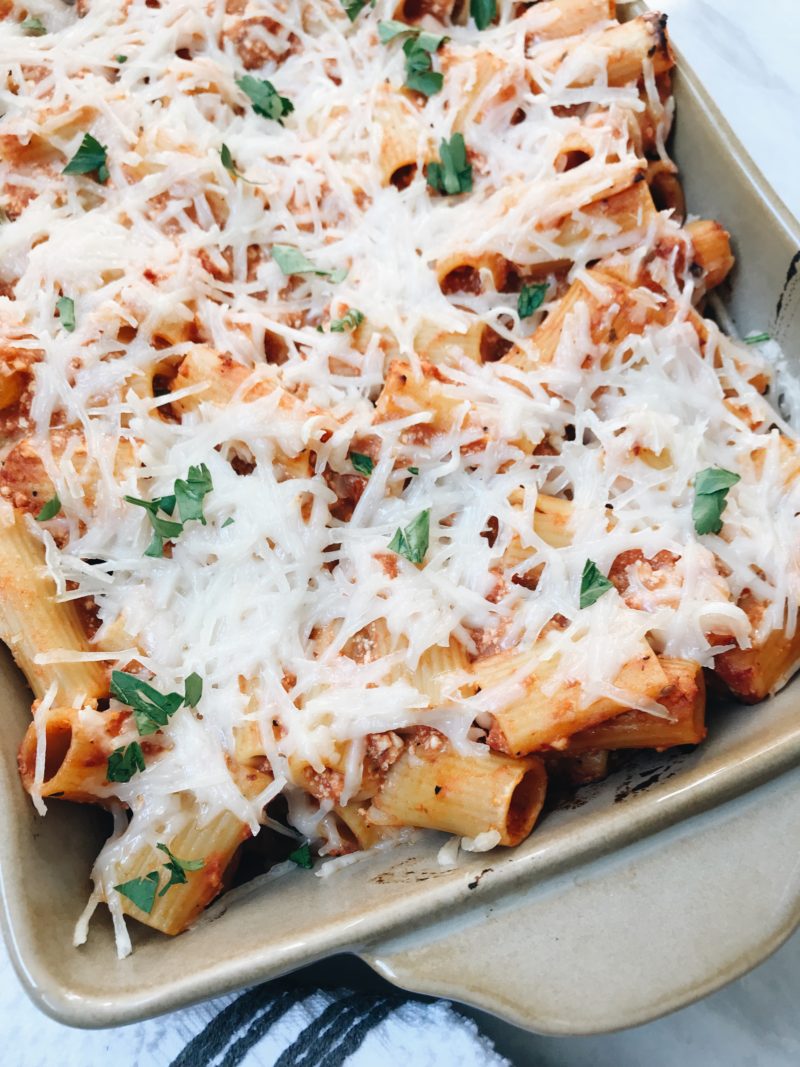 You can serve this up with veggies on the side and even some sort of plant protein! I would recommend tempeh or tofu.
This recipe is definitely a crowd pleaser and will be loved by vegans and non-vegans.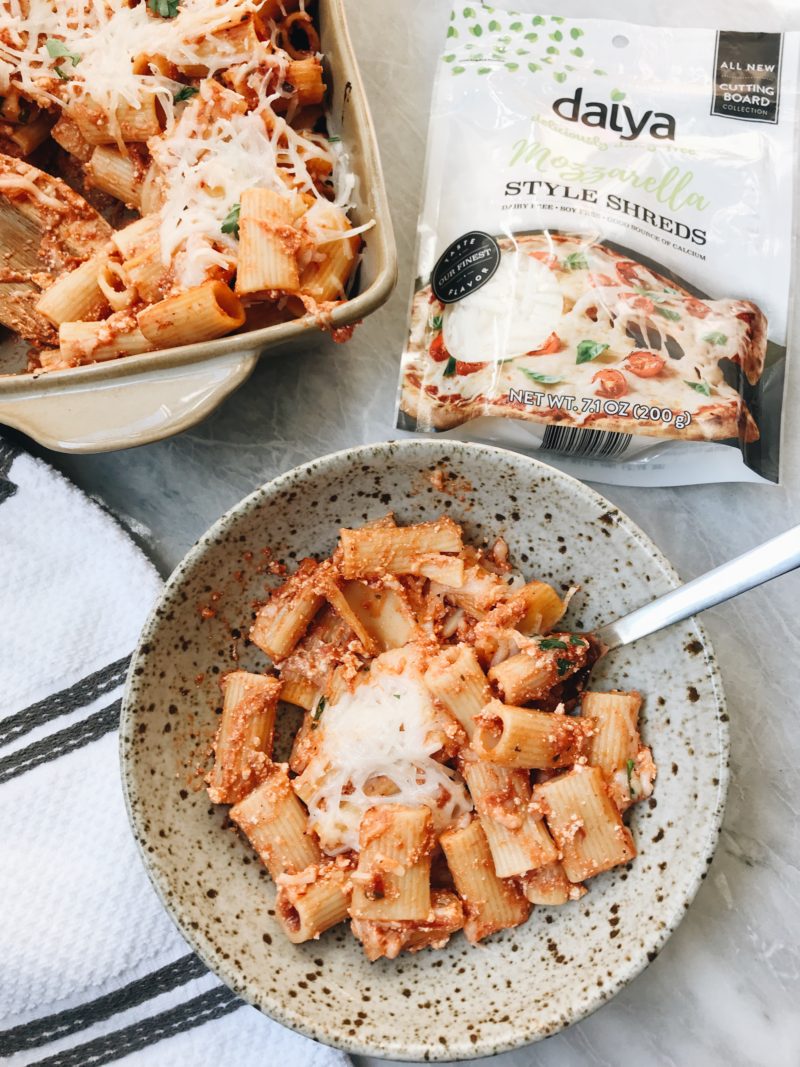 I hope that you enjoy this recipe!
If you make any of my recipes, don't forget to tag me on Instagram @plantbasedjane
To find Daiya near you, click here.
Ingredients
1 box rigatoni noodles
3 cups pasta sauce of choice
2 cups Daiya Mozzarella Cutting Board Shreds

tofu ricotta

1/2 block of medium-firm tofu
3 tablespoons vegan cream cheese (Daiya also makes vegan cream cheese)
juice from 1/2 a lemon
1 tsp Italian seasonings
1/2 tsp salt
1/4 tsp pepper
Instructions
Begin by bringing a large pot of salted water to a boil and cook your noodles according to package instructions.
As the pasta is cooking, make your tofu ricotta. Add your tofu to a bowl and mash with a fork until the tofu is in small crumbles. Add in the rest of your ricotta ingredients and mix well to incorporate the vegan cream cheese, seasonings & lemon juice. Set aside.
Once your pasta is done, drain and return the noodles to the pot. Add in your tomato sauce and mix well until all noodles are covered in sauce. Add in your tofu ricotta and mix to combine.
Add half of your noodles to a baking dish and top with 1 cup of your daiya shreds so that all the noodles are covered in the mozzarella. Add the remaining pasta and top with another cup of your shreds.
Place in the oven on broil until cheese has melted.
Enjoy!
http://plantbasedjane.com/2019/02/baked-ziti/
Thank you to Daiya for sponsoring this post. I love to work with brands I love and support my blog.