Hello Friends! I am back to show you guys a post of what I ate in a day. This is from a few days ago because I was sick the past few days with a virus (ugh) and I needed to take a couple of days off. Plus, I don't think showing my toast with earth balance would be helpful for you guys!
Breakfast: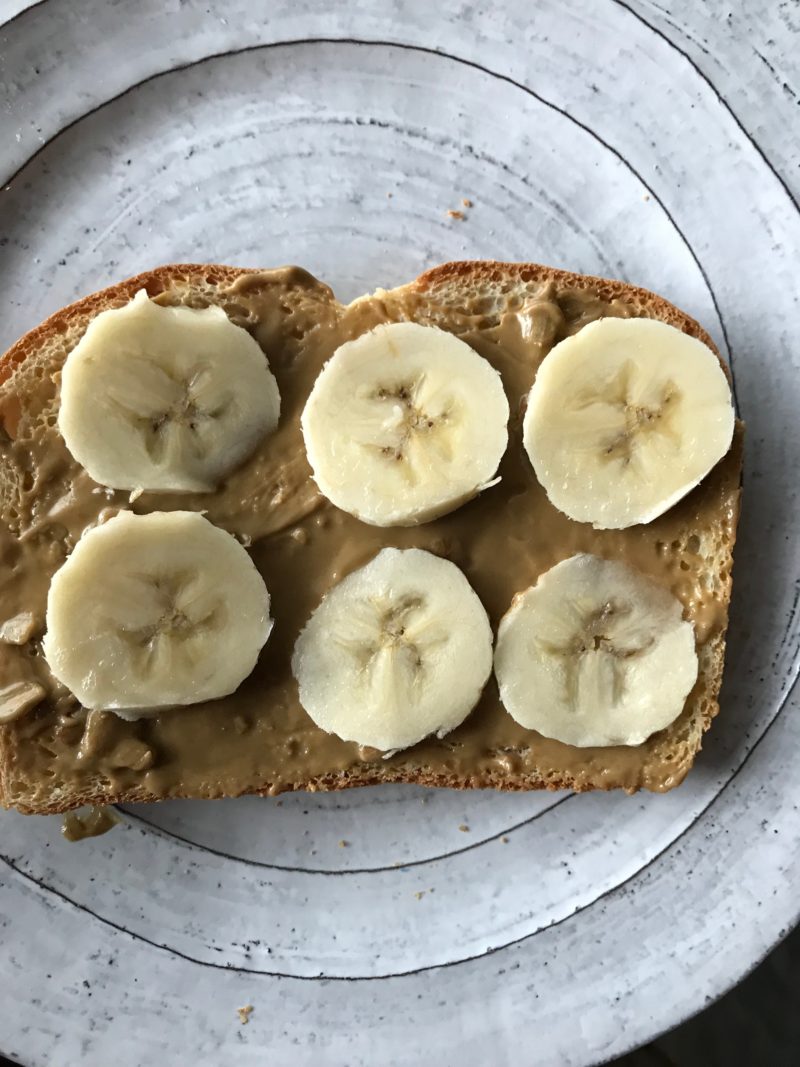 I know breakfast is the most important meal of the day, but sometimes I just don't have the strength to whip up some beautiful vegan breakfast. I gravitate towards toast just because it's easy, and if you have the right toppings it can be filling.
This is crunchy sunflower butter topped with some sliced banana. I love crunchy sunflower butter because it gives the toast a different texture. I get the brand Sunbutter.
Lunch: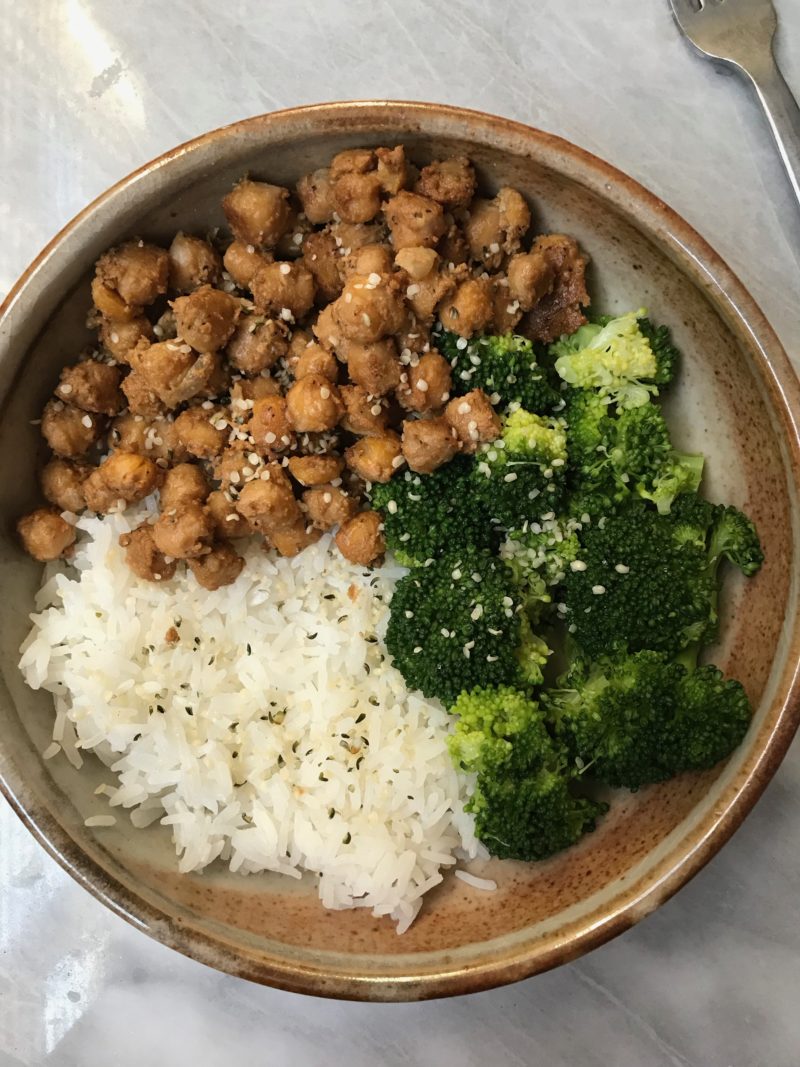 For some reason the craving for sunflower butter continued throughout the day because for lunch I was craving some type of sesame "peanut" sauce. Since I am allergic to all nuts, sunflower butter had to do! Compared to the sunflower butter I ate for breakfast, this is just creamy sunflower butter that only contains sunflowers (sometimes salt). The one I had for breakfast does have added sugar (some might disagree with added sugar but I think once and while is okay).
How I made these sesame sunflower butter chickpeas:
1 tablespoon sunflower butter – only ingredients should be sunflowers & salt
2. 1/2 tablespoon soy sauce (or tamari)
3. 1/2 tsp sesame oil
4, 1/2 tsp rice wine vinegar
5. Couple drops of Sriracha
6. Hot water to thin.
Begin by making your sauce. Add all your ingredients besides water. Once everything is combined slowly mix in some hot water. Mix until the sauce is still creamy but is also slightly runny.
Heat your chickpeas on a pan with a little olive oil. Add some pepper. Cook until chickpeas are warm and lower your heat. Slowly add in your sauce and let cook for 1-2 minutes or until everything has thickened up. Serve with whatever! Today was rice & broccoli
I made about half a can of chickpeas, but if using a whole can I would double the recipe.
Dinner: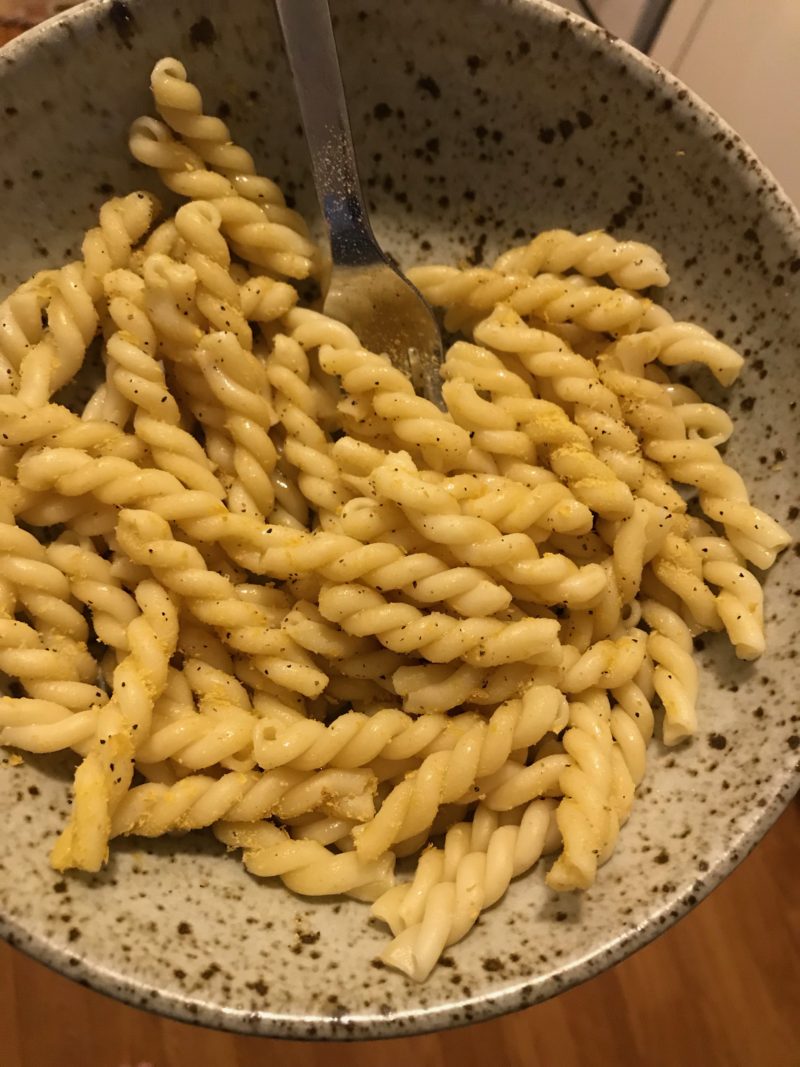 For dinner was just a bowl of pasta with nutritional yeast, salt, pepper & olive oil. I normally ALWAYS add broccoli to my pasta but I didn't realize I was all out. So I just stuck with pasta. Super boring but honestly I love this type of meal. You can always add Vegan parm if you would like!
I hope that you enjoyed this what I ate in a day! 2 more coming this week 🙂