Happy Veganuary! If you are trying Veganism this month, I applaud you. As someone who went Vegan cold turkey (what a horrible term to use lol) I can relate to what you may be going through! Going Vegan overnight is definitely something that can be challenging, which is why I decided to bring back this series.
Last January, I did a What I Ate Today blog post everyday during the month. It was honestly very stressful, as I was also balancing the release of recipe content, which is why I decided to limit to only 3 posts a week this time. In general I am such a creature of habit, and that really applies to what I eat. I felt like everyday was the same, so I'm hoping with 3 blog posts a week of showing what I ate will be a bit more exciting.
I went Vegan the day after Thanksgiving of 2015. I dabbled in the life of being a pescatarian and vegetarian. However, I would often forget that and eat meat. It hit me on Thanksgiving that I just needed to do it. The whole tradition of Thanksgiving is eating Turkey, Ham, etc. It was sad for me to witness that we were really celebrating eating dead animals. It completely flipped the switch and the next day I decided to fully transition into being a Vegan. Honestly, the best decision of my life.
I feel like there are a ton of Vegans on the internet that not only bash non-vegans, but also portray this life of going Vegan and having no problem. Let me say, don't believe everything you see on the internet! Going Vegan is HARD, and anyone who tells you differently is lying. In a way it can be easy because many Vegans educate themselves before and learned the truth behind the cruelty of factory farming. Also, the fact that our planet is suffering because of factory farming. However, being educated doesn't mean going Vegan is this magically easy thing – it's not. You go from changing the diet/lifestyle you knew most of your life and completely changing it. It's about triple checking labels, saying goodbye to your beauty products that were most likely NOT Vegan. It is a complete lifestyle change! So I am hoping this Veganuary series can help you in making this transition to Veganism easier.
Enough rambling, let's start with breakfast: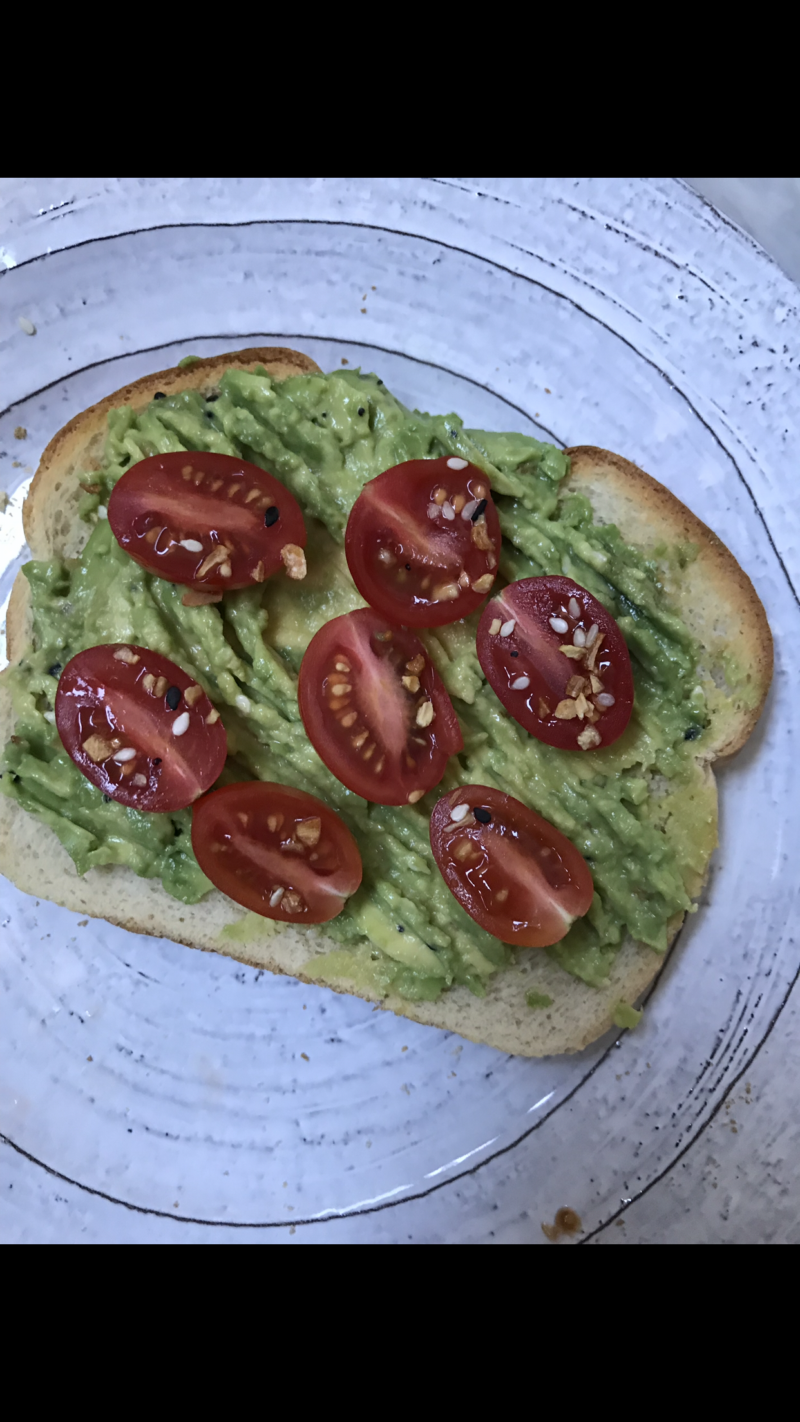 Avocado toast! A classic. All I do is toast a piece of bread and mash 1/4 avocado with salt, pepper, garlic powder & chili powder. Add to your toast and slice up some yummy cherry tomatoes! I also added Trader Joe's Everything But The Bagel Seasoning. This stuff is life!
Lunch: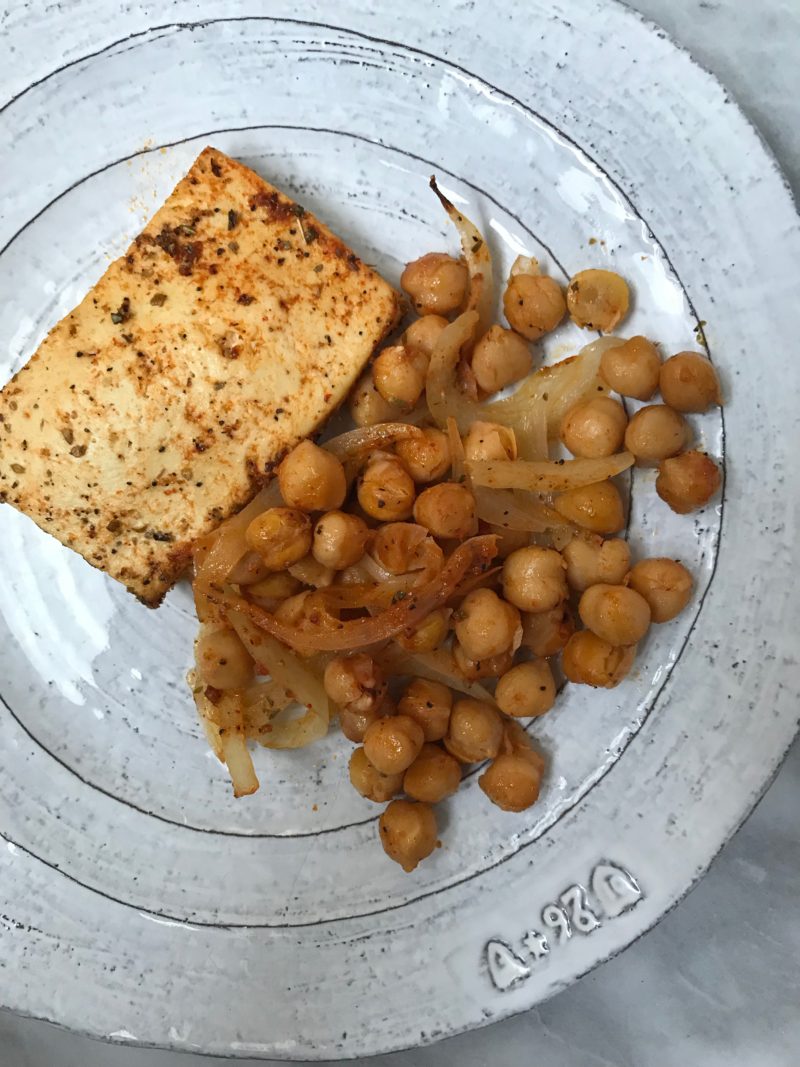 My lunch was a recipe that I tested that will be up on the blog soon! Its a one dish baked paprika tofu with chickpeas & onions. I had seconds, it was absolutely delicious! In the blog post I will recommend serving it up with some rice, quinoa, etc. However, I was lazy.
Dinner: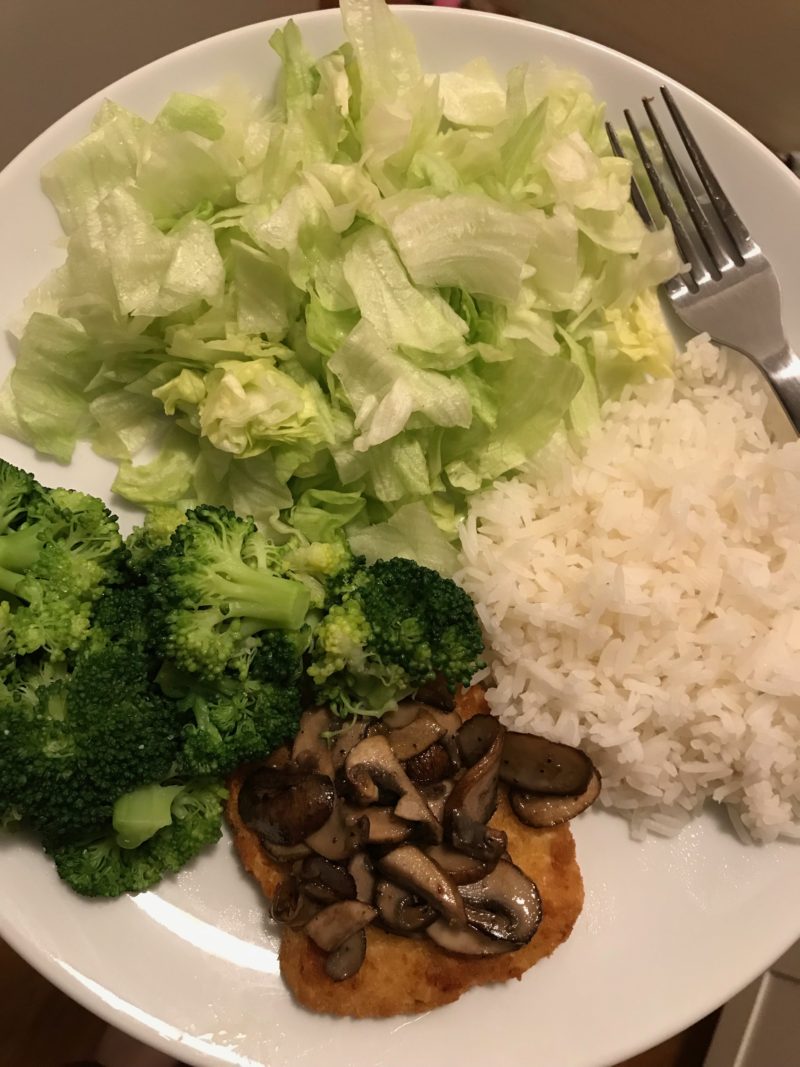 Dinner was just a mix of things! I was roaming the grocery store and was reminded of these Gardein Vegan Turkey Cutlets. I haven't had these in forever so I decided to pick them up (they also make for a great "chicken parm"). I made some jasmine rice as well as broccoli. The "Turkey cutlets" also come with gravy but I normally skip it. I decided to sauté some mushrooms to add on top and it was just perfection. I also had some iceberg lettuce for a salad. With the whole romaine scare being present, I haven't purchased any. People seem to despise iceberg lettuce which I don't understand??? I'm aware it lacks nutrients but I love crunchy salads which is why I have been buying it. I feel that if I add other vegetables (like broccoli) it doesn't really matter. However, I am missing my romaine!
I hope that you enjoyed this vegan what I ate in a day post! I hope that it can give you some inspiration for your Veganuary!