Whether you're with a loved one, your best friend, or just hanging alone, you are completely covered with this 3 course Vegan Valentines day meal!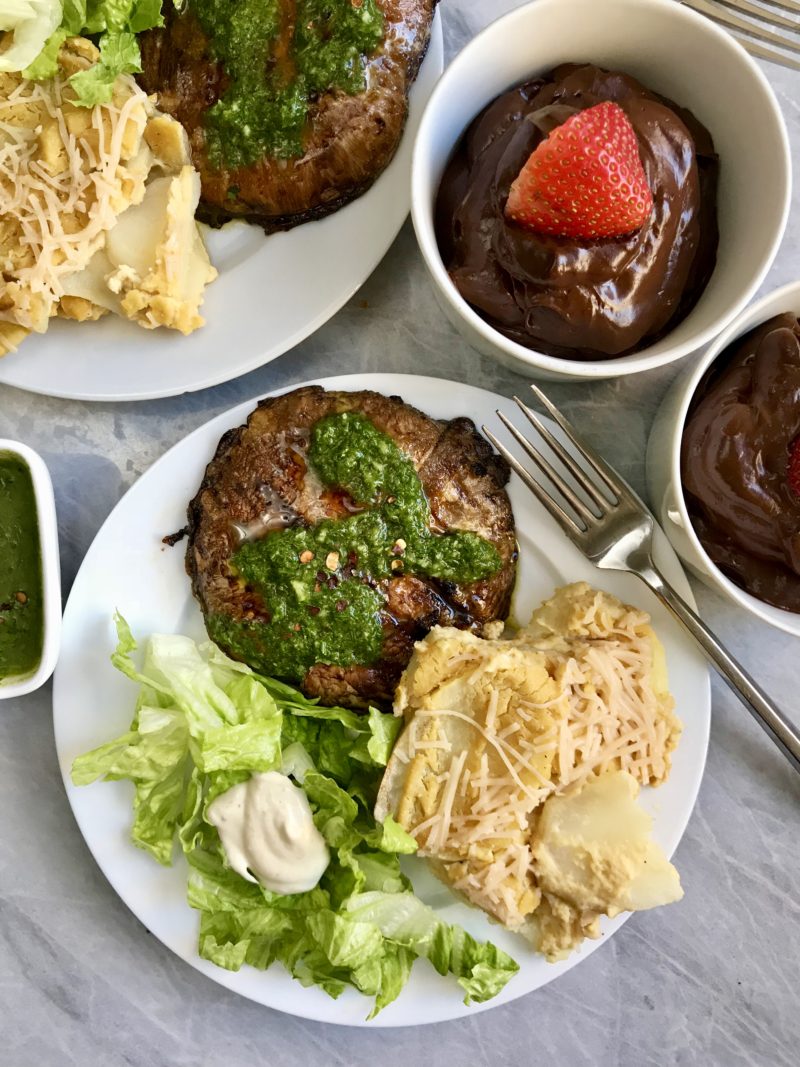 With Valentine's day around the corner, I wanted to create a delicious 3 course meal for you guys. Whether you spend it with friends, a loved one or just hanging by yourself, I wanted to create a special and delicious meal to help you celebrate.
When coming up with this recipe I wanted it to be indulgent but also on the healthy side.
I came up my favorite items to eat that are absolutely delicious!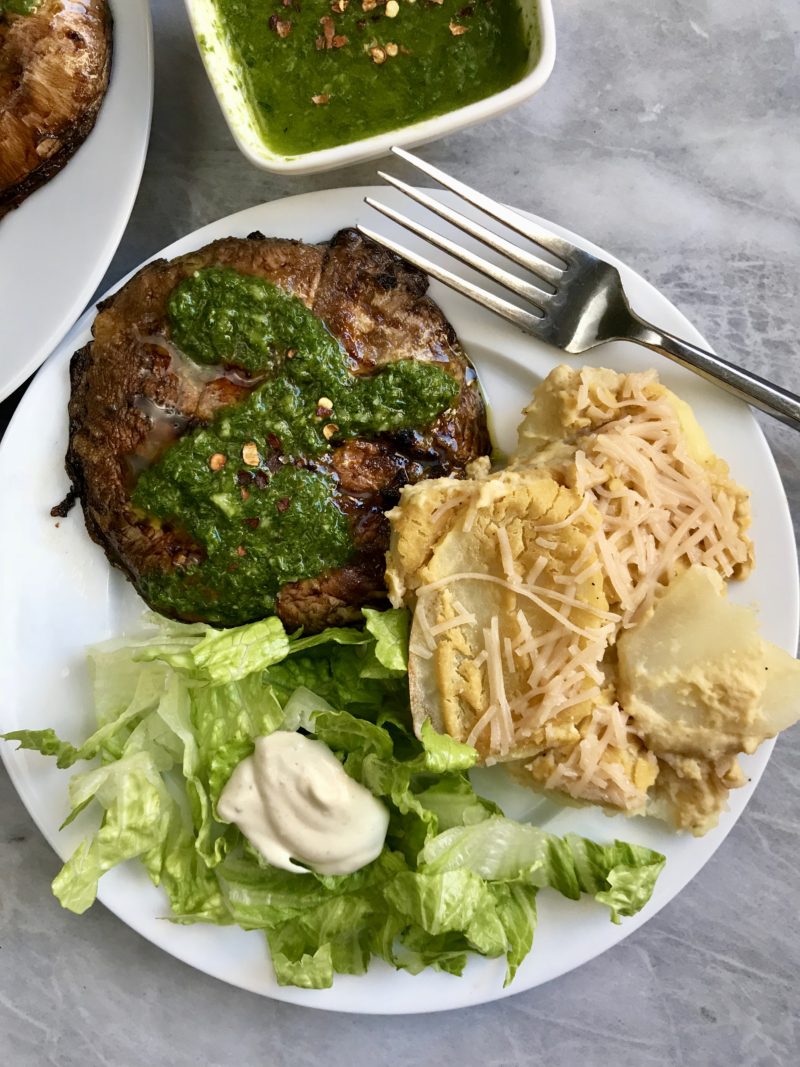 We have:
Vegan caesar salad
Creamy potato bake
Grilled portobello steaks w/ a easy chimichurri sauce
Chocolate pudding (made from avocados!)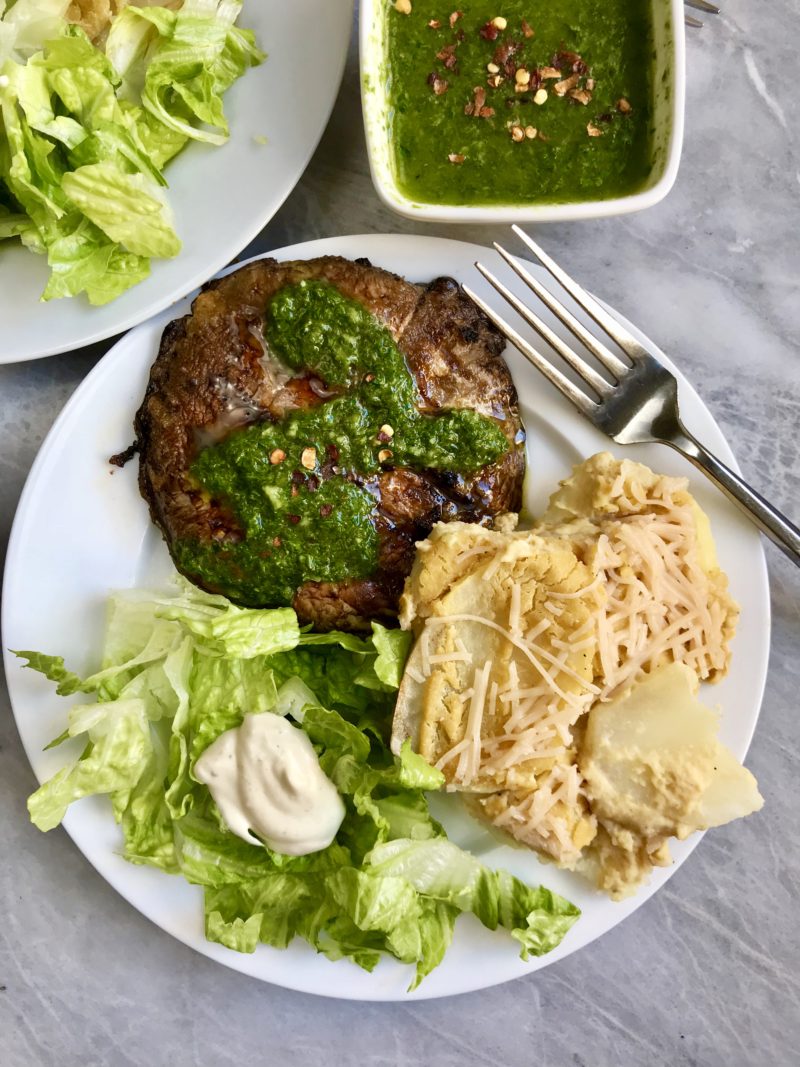 I hope you enjoy this delicious meal!
If you make anything from this recipe, don't forget to tag me on Instagram @plantbasedjane
Three Course Valentine's Day Meal
Ingredients
Vegan Caesar Salad

2-3 cups romaine lettuce
3 tablespoons tahini
1/4 tsp Vegan worcestershire sauce (I recommend Annie's)
1/2 tsp dijon mustard
1 tablespoon lemon juice
1/4 tsp salt
1/4 tsp pepper
warm water to thin

Portobello Steaks

2 portobello mushrooms
2 tablespoons soy sauce
1/2 tsp onion powder
1/2 tsp garlic powder
1/4 tsp pepper
* Chimichurri sauce*
1 bunch of parsley (top leaves only)
2 cloves garlic
1/2 juice of lime
1/4 tsp salt
1/4 tsp pepper
1/4 cup olive oil
1 tablespoon water
pinch red pepper flakes

potato bake

2 russet potatoes
1 can of chickpeas
1/4 cup soy milk
2 tablespoon nutritional yeast
1/4 tsp salt
1/4 tsp pepper
1/2 lemon juice
vegan parm (optional)

Avocado chocolate pudding

1 1/2 avocados
1/2 cup cacao powder
1/2 cup maple syrup
1/4 tsp soy milk
1 tsp vanilla
pinch of cinnamon
pinch of salt
Instructions
Begin your chocolate pudding. Add all of your ingredients into a blender (or food processor) and blend to combine. Add into two small dishes and pop into the fridge to chill until dessert!
Next, marinate your portobellos. Remove the stems and wash well. Add into a dish and add all of your marinade ingredients. Let sit for 20-30 minutes.
Meanwhile, make your potato bake. Pre-heat oven to 400 degrees and add all of your potato bake ingredients (instead of potatoes) into a blender (or food processor). Slice your potatoes very thin. Add around 2 tablespoons of your sauce onto the bottom of your baking pan and stack your potatoes. Once you have one layer of potatoes down add more sauce. Add another layer of potatoes and add your remaining sauce. Pop in oven for 1 hour and the last 20 minutes you can add your Vegan parm and let melt (optional step but really is tasty!)
At this time you can also make your easy vegan caesar dressing and add to your lettuce when you're about to eat.
Now make your Chimichurri sauce. Add all your ingredients to your washed blender (or food processor) and blend until smooth.
When your potatoes are almost done cooking add your portobellos to a grill pan (saute pan if you don't have a grill pan!) spray pan with oil and cook on both sides for 2-3 minutes. Take off pan and add your Chimichurri on top!
Serve 🙂
http://plantbasedjane.com/2018/02/three-course-valentines-day-meal/