A delicious take on nachos using potatoes!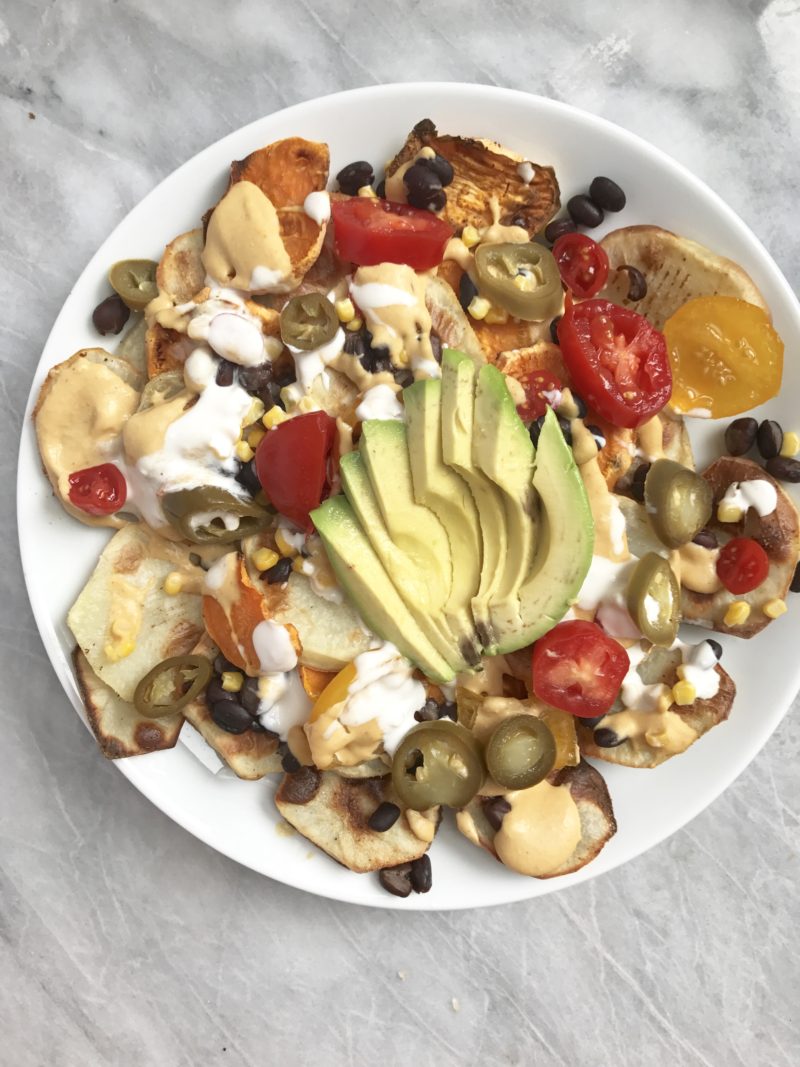 With Cinco De Mayo coming up, I wanted to create a fun recipe to make to celebrate the day (and help you carb up after those margaritas). I already have a nacho recipe on my blog, but I wanted to jazz it up and make a different variation of Vegan "nacho cheese," and use potatoes in place of chips.
By using potatoes, it makes the dish healthier than deep fried chips. I also decided to do a combination of sweet and regular russet potatoes for variation. You could make this completely russet potatoes or completely sweet potatoes. It's up to you! I think it's fun to mix them together.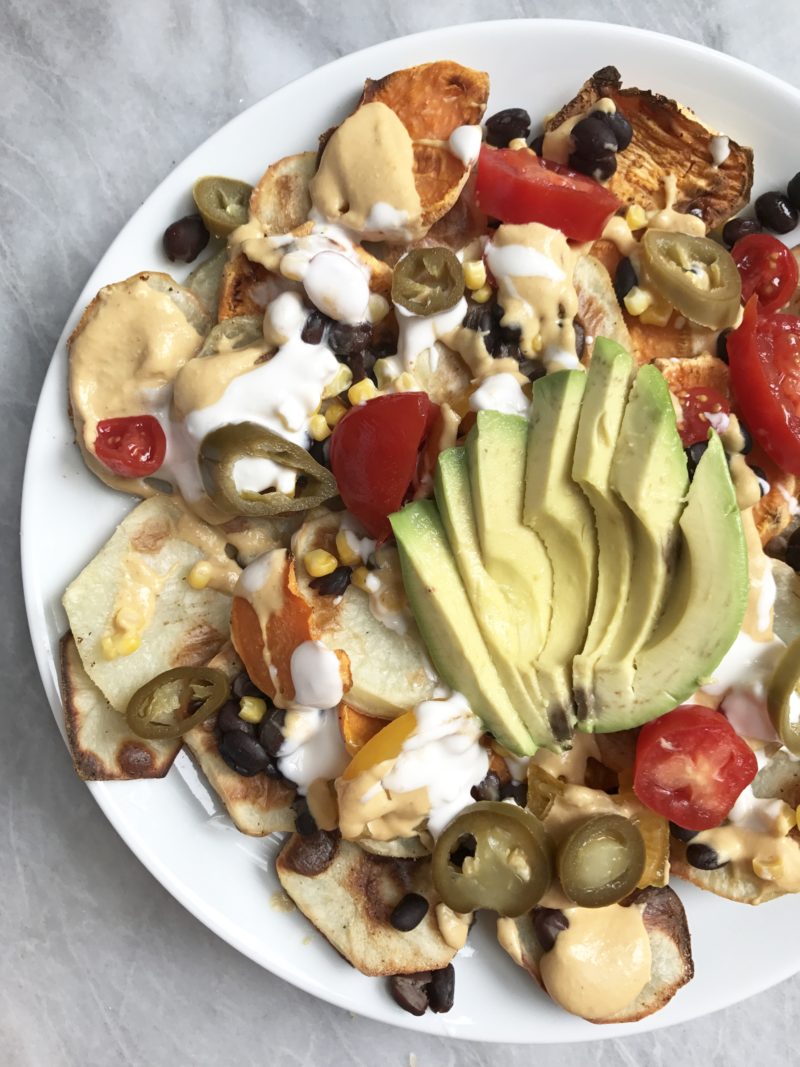 What is the nacho cheese sauce made from? A base of WHITE BEANS & OATS! I know. It sounds crazy…however it just works! it's cheezy, delicious and satisfying.
You can ever just use chips for this recipe! However i wanted to change it up by using potatoes.
I never really ate nachos as a kid, teenager, up into my 20s. When I went Vegan I started to get into more foods and dishes that I would never even consider before going Vegan. I think it's because I just have this satisfaction and excitement of trying to Veganize any dish to show that you don't miss out when you go Vegan.
I hope that you enjoy this recipe! If you go out on Cinco De Mayo, be safe and make sure you have a designated driver!
If you make any of my recipes, tag me on Instagram @plantbasedjane or hashtag #plantbasedjane so I can see!
Ingredients
For Nacho Cheese Sauce

Makes around 2 cups. Will be more than whats required for recipe. Yay for leftovers!
1 15oz can white beans
1/4 Cup Oats
1/2 Cup Nutritional Yeast
3-5 Pickled Jalapeños (Depend on spice)
1-2 Tablespoons Of Liquid From Jalapeño Bottle.
2 Tablespoons Olive Oil
1 Tablespoon Tomato Paste
1/2 Tsp Salt
1 Tsp Garlic Powder
1 Tsp Onion Powder
1 Tsp Smoked Paprika
2 Tsp Lemon Juice
1 Tsp Arrowroot Starch (Can Use Corn Starch)
1/4-1/2 Cup Water
For Nachos:
3 Medium Potatoes (I used 2 russet, 1 sweet)
1/4 Tsp Salt & Pepper
1 Tsp Onion Powder
1/3 Cup Black Beans
1/3 Cup Tomatoes, Chopped
1/4 Cup Corn
1/4 Red Onion
Avocado & Vegan Sour Cream for Topping
Instructions
For Nacho Cheese:
Put ingredients in high speed blender and blend until smooth. Set aside.
For Potatoes:
Pre-heat oven to 400 degrees Fahrenheit
Slice potatoes into rounds and season with salt, pepper & onion powder.
Place on a baking sheet lined with parchment paper and cook for 20 minutes, flip, and cook an additional 10 minutes.
When potatoes are done cooking, place on plate. Add your toppings & nacho cheese.
Enjoy!
http://plantbasedjane.com/2017/05/potato-nachos/