Now, let me just give a fair warning: This isn't the "healthiest" recipe. If I aimed to make all my recipes super healthy I genuinely wouldn't be staying true to myself. Sure, I am healthy around 80% of the time, but there are these times I just warn to bite into an eggplant parm sub and stuff my face with pasta. It is aiming to eat healthy as possible, but also treating yourself because you're only human!
I haven't had eggplant parm since 2015 – it's been awhile. 2015 is when I went Vegan and I haven't had any Vegan option of it since then. So I decided to take matters into my own hands and whip up a random recipe for it that literally takes 30 minutes to make and is delicious.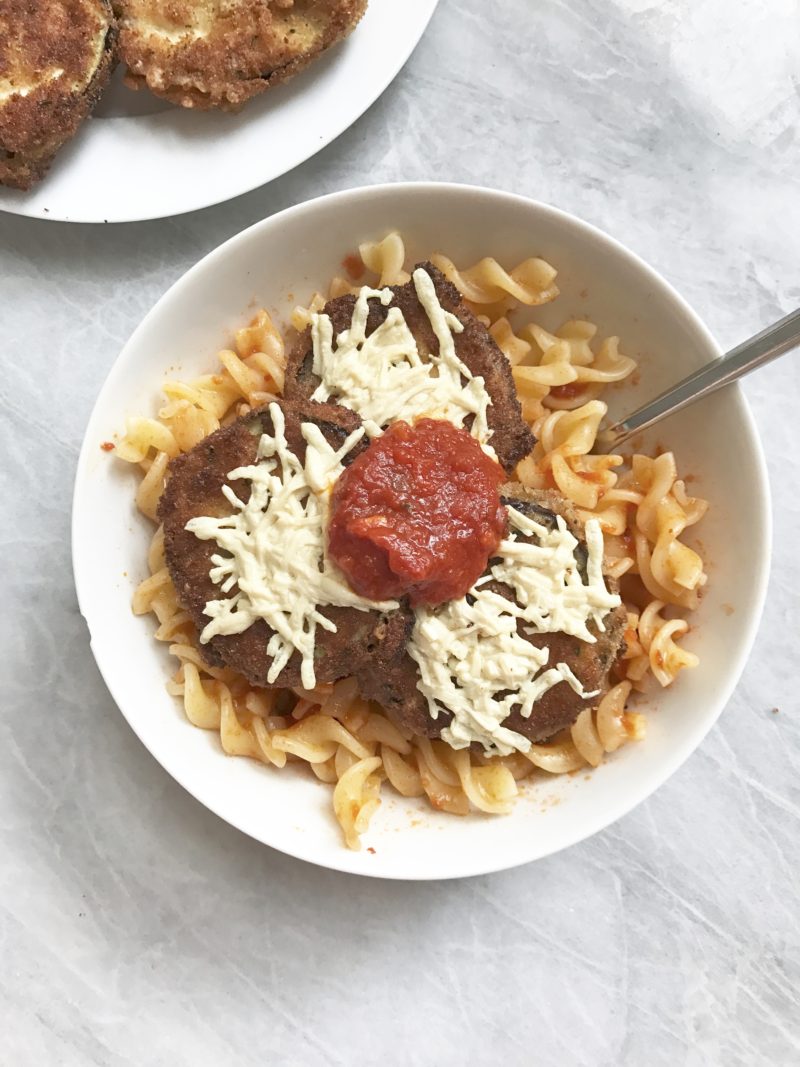 I definitely recommend this as like a Sunday night dinner where you can round your family up to sit at the dinner table and set good intentions for the week and just laugh over a satisfying and cruelty free meal. Isn't it nice to laugh and not having it be at the expense of other animals lives?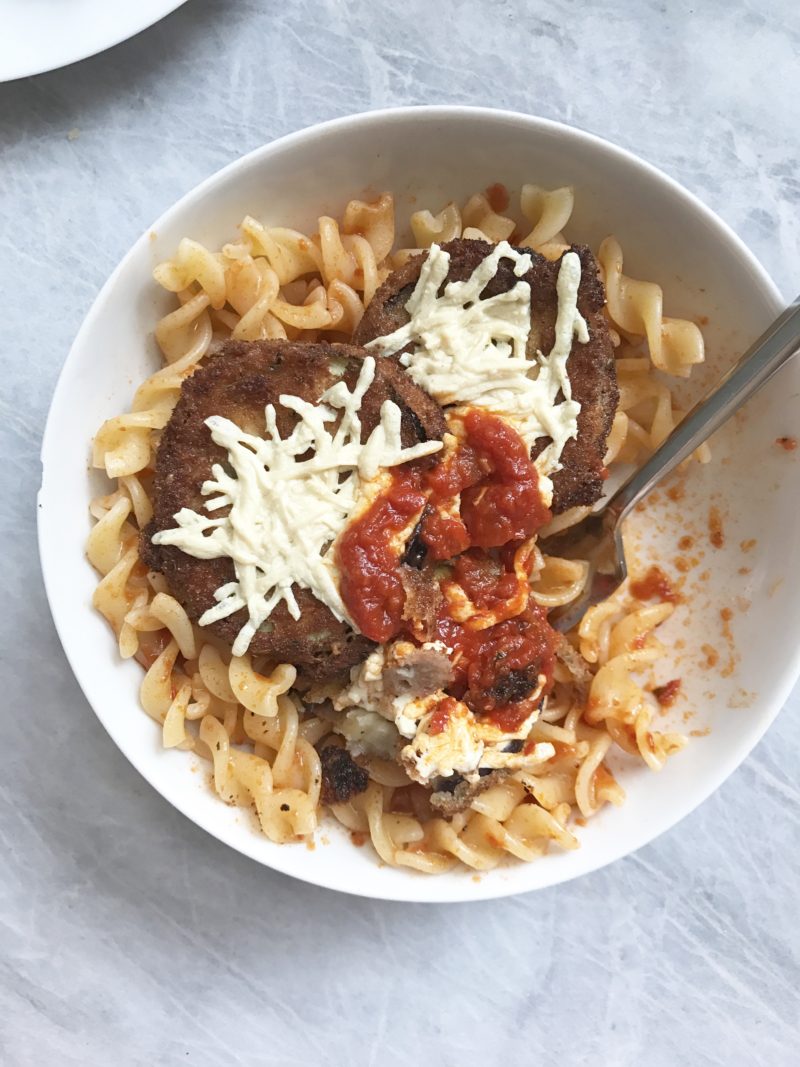 Literally evert time I finish a recipe and photograph it, I have a few bites of it. I had to take a photo if it this time lol!
I hope you enjoy this recipe! If you ever make any of my recipes, don't forget to tag me @plantbasedjane so I can see!
The Easiest Vegan Eggplant Parm
Ingredients
2 Small Eggplants (One Large Eggplant)
1 1/2 Cups Flour (I use All Purpose)
1 - 1 1/4 Cup Plant Milk
1 1/2 Italian Flavored Bread Crumbs
Oil For Frying
Daiya Mozzarella For Topping
Instructions
Cut your eggplant into 1/2 inch rounds and sprinkle them with salt and place on paper towel. Let sit for 10 minutes. This will draw out the bitterness.
After 10 minutes, rinse and dry your eggplant.
Start by heating up your oil on a sauté pan. Cover the pan with oil and let come to a high heat.
As it's heating, combine your flour and plant milk. This should be close to a pancake batter but a little thicker. Add plant milk gradually to form this consistency.
When oil is heated, begin by coating your eggplant one by one in batter and then in breadcrumbs. Add to oil and let rounds cook 2-3 minutes on each side. Transfer to paper towel.
To add cheese, turn your over broiler on high. Top your eggplant with mozzarella and put in broiler for 3-5 minutes or until melted.
Serve on it's own or over pasta!
http://plantbasedjane.com/2017/03/the-easiest-vegan-eggplant-parm/