Awhile back I asked you guys what you wanted to see on my blog in terms of recipes. Surprisingly, I got a lot of requests to do casseroles. This is surprising to me, well, because I've never made a casserole in my life! Thinking about how I could make one, I brainstormed different ideas. Suddenly, broccoli popped into my head. If you didn't know, broccoli is my all time favorite vegetable. I thought it would be a good idea to create my first casserole ever using a food item I loved.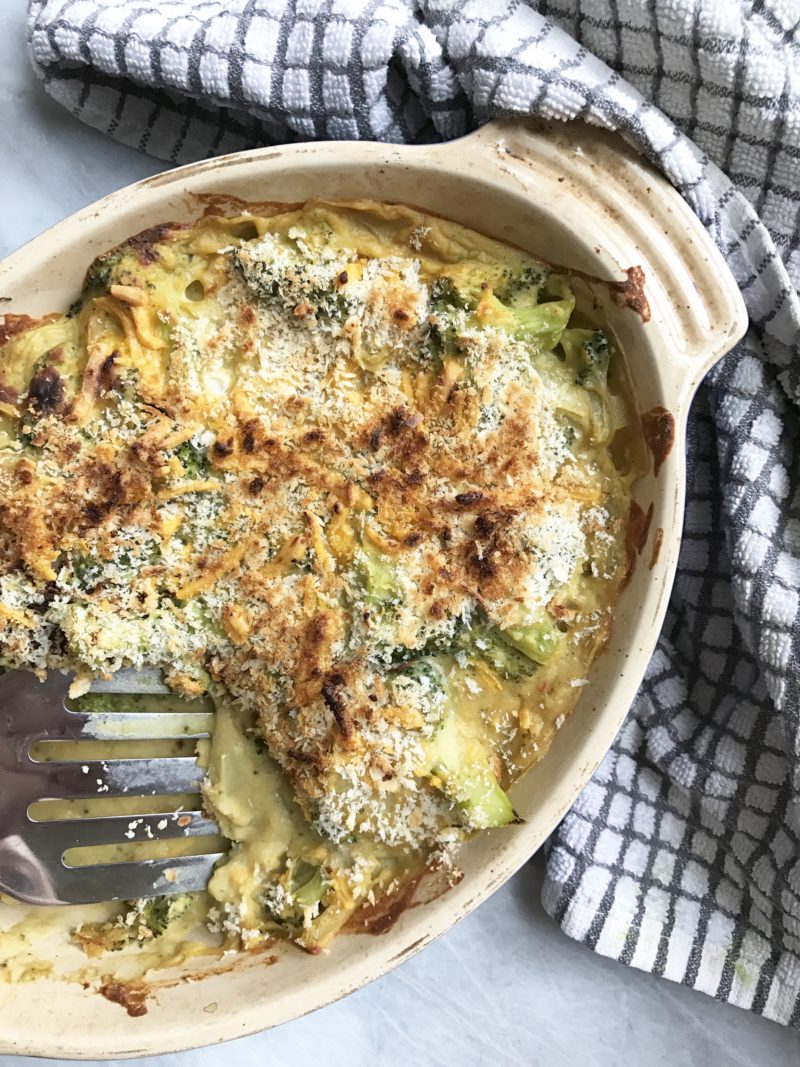 I thought it would be a good idea to use a vegetable I loved because it is something I feel comfortable with. So what goes well with broccoli? VEGAN CHEESE SAUCE! I didn't want to stick to strictly Vegan cheese, or create the standard carrot-potato mix, so I decided to brain storm.
What does brain storming mean to me? Going through my pantry like a mad woman trying to decide what could work. First thing I found: A can of cannellini beans! I know beans are a great substitute in recipes to still maintain a creamy flavor and texture without all the fat from vegan cheese or milks.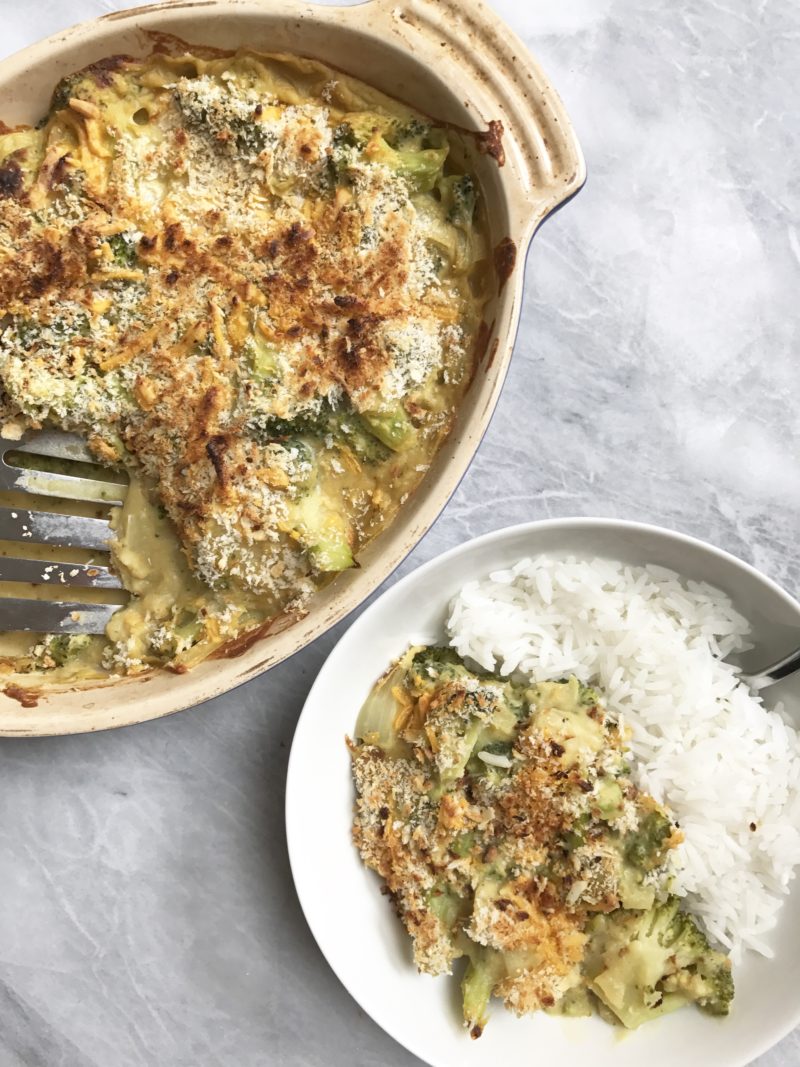 You could pair this casserole up with any side. I thought rice would be a nice component because rice is great and goes really well with broccoli!
The other great thing about this recipe is that it is NUT FREE. Being allergic to all nuts, I love to create new ways to enjoy creamy dishes for me and others who are also allergic to nuts.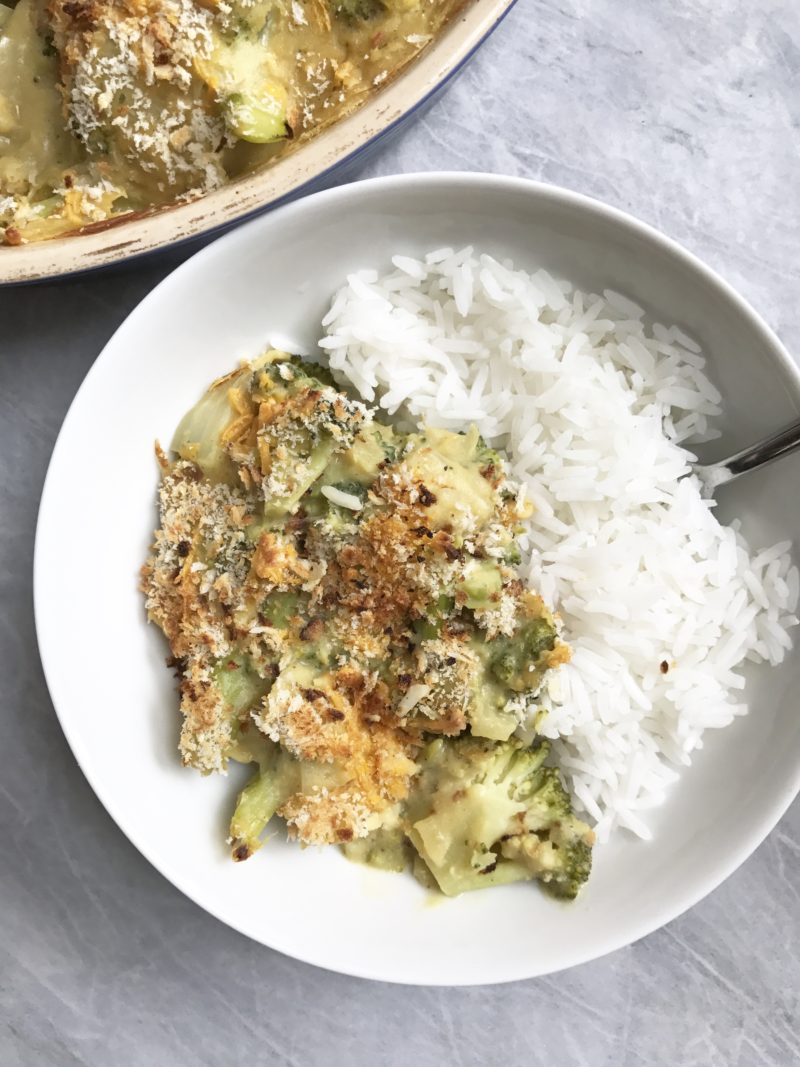 This dish is non-vegan approved and a great item to bring to parties or make for your family one evening!
Remember if you ever make any of my recipes, tag me on Instagram @plantbasedjane so I can see!
Ingredients
2 Pounds Broccoli Florets
1 15oz Can Cannellini Beans (Sub any white bean like navy, etc.)
1/4 Cup Water
1 Large Onion, Diced
4 Cloves Minced Garlic
1/3 Cup All Purpose Flour (Sub Gluten-Free)
3 Cups Vegetable Broth
1/3 Cup Nutritional Yeast
2 Tablespoons Vegan Cream Cheese
2 Teaspoons Vegan Worcestershire Sauce (I like Annie's)
1/4 Tsp Black Pepper
1/4 Tsp Salt
1/4-1/2 Cup Vegan Cheddar Cheese (Optional, For Topping)
1/4 Cup Panko Bread Crumbs
Instructions
Pre-heat oven to 350 degrees Fahrenheit
Bring a large pot of water to a boil and cook your broccoli for 3-4 minutes, or until it starts to become tender. Drain and set aside.
In a high speed blender or food processor, blend your washed beans and 1/4 cup water until smooth. Set aside.
Chop up your onion and garlic finely and sauté in a pan with sides with some water until translucent (around 5-6 minutes). Add garlic and cook for another 3-4 minutes.
After 3-4 minutes, add in your flour and let cook for another minute.
Add in your vegetable broth and pureed beans and mix until thick.
After your sauce thickens up, add in your nutritional yeast, vegan cream cheese, Worcestershire, black pepper and salt. Let cook for another 3-4 minutes.
If sauce seems slightly running, add in a tablespoon of flour and mix. Take off heat.
Put your broccoli in an oven safe dish and pour sauce over. Mix to combine. Add your bread crumbs and optional Vegan Cheddar and put in oven for 20 minutes.
After 20 minutes, turn broil on high and let the panko toast up. Keep a watchful eye on it as it can burn very quickly.
Take out an enjoy!
http://plantbasedjane.com/2017/02/vegan-broccoli-casserole/