What if I told you that you could completely bake gnocchi and have it taste good? I know, it sounds weird. However, using store bough shelf life (not fresh), it is completely possible and delicious.
Gnocchi was my childhood. I was the pickiest eater and the idea of combining pasta and potatoes into one has always sounded like splendid idea. By combining other ingredients you likely have on hand, you can create a one pan delicious dish in 30 minutes. Perfect weeknight meal and makes great lunch leftovers.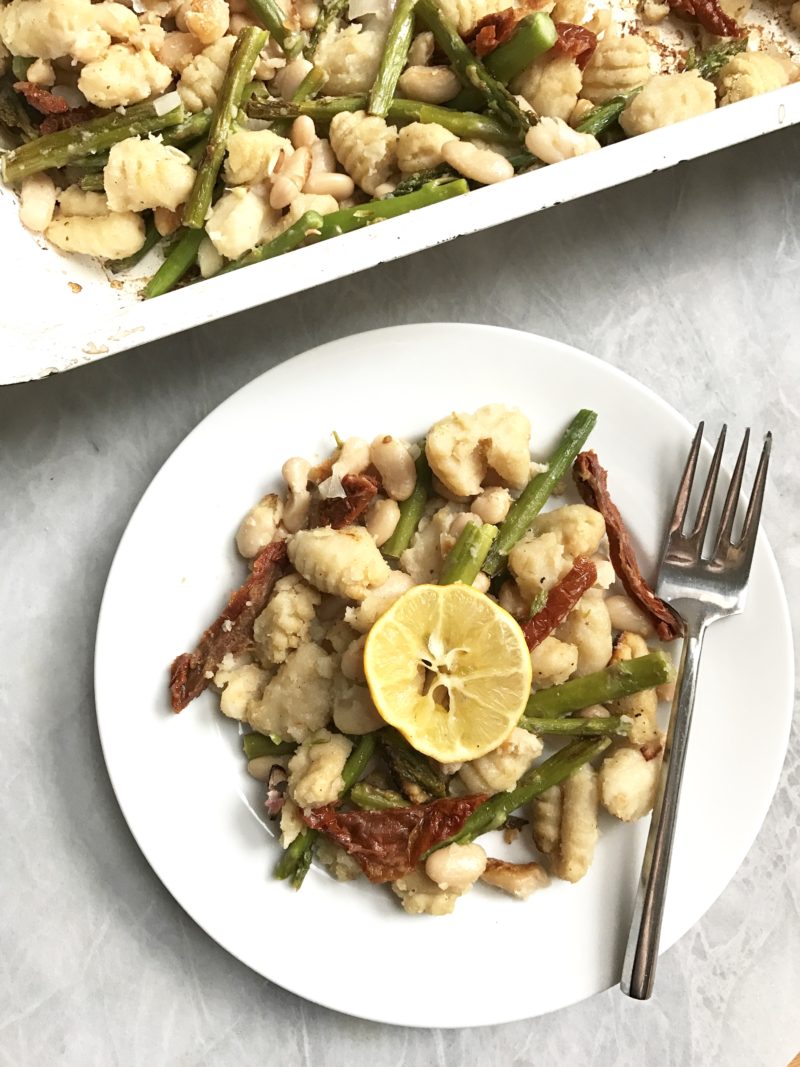 The great thing about this recipe is how versatile it is. Don't have asparagus? Use broccoli or brussel sprouts.
We all want to make these glamorous meals that are quick to make but are also delicious and require an easy cleanup. The great thing about this recipe is you literally just dump the ingredients into a pan and throw it in the oven. One pan, one cleanup item…A few less dishes to worry about.
I love adding beans to this recipe because it adds more protein and a creaminess factor but also cooks so nicely when baked.
Side note: do not use fresh gnocchi. Using fresh sounds more ideal but the flour taste doesn't evaporate in the oven like it would when boiling so shelf life gnocchi is the way to go!
Most gnocchi's are Vegan so it's important to just check the labels. Sometime's they will sneak egg in there but it is super rare.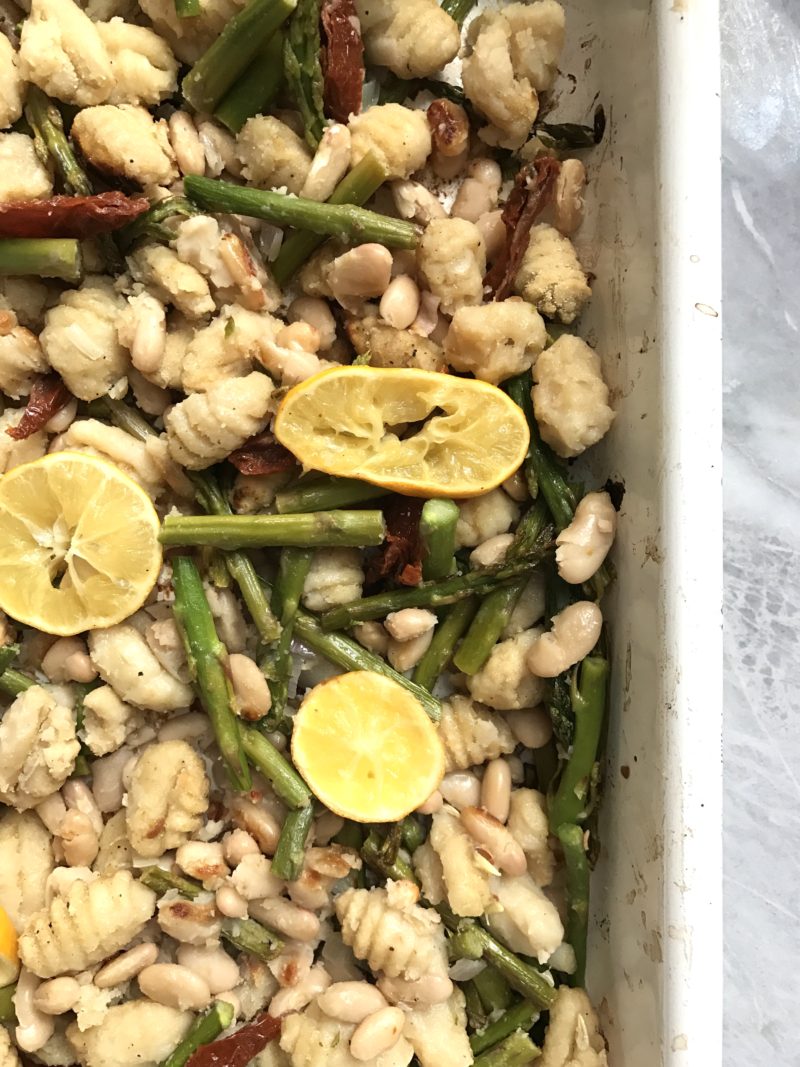 I hope you enjoy this recipe! Remember, if you make any of my recipes, tag me on @instagram so I can see your lovely creations!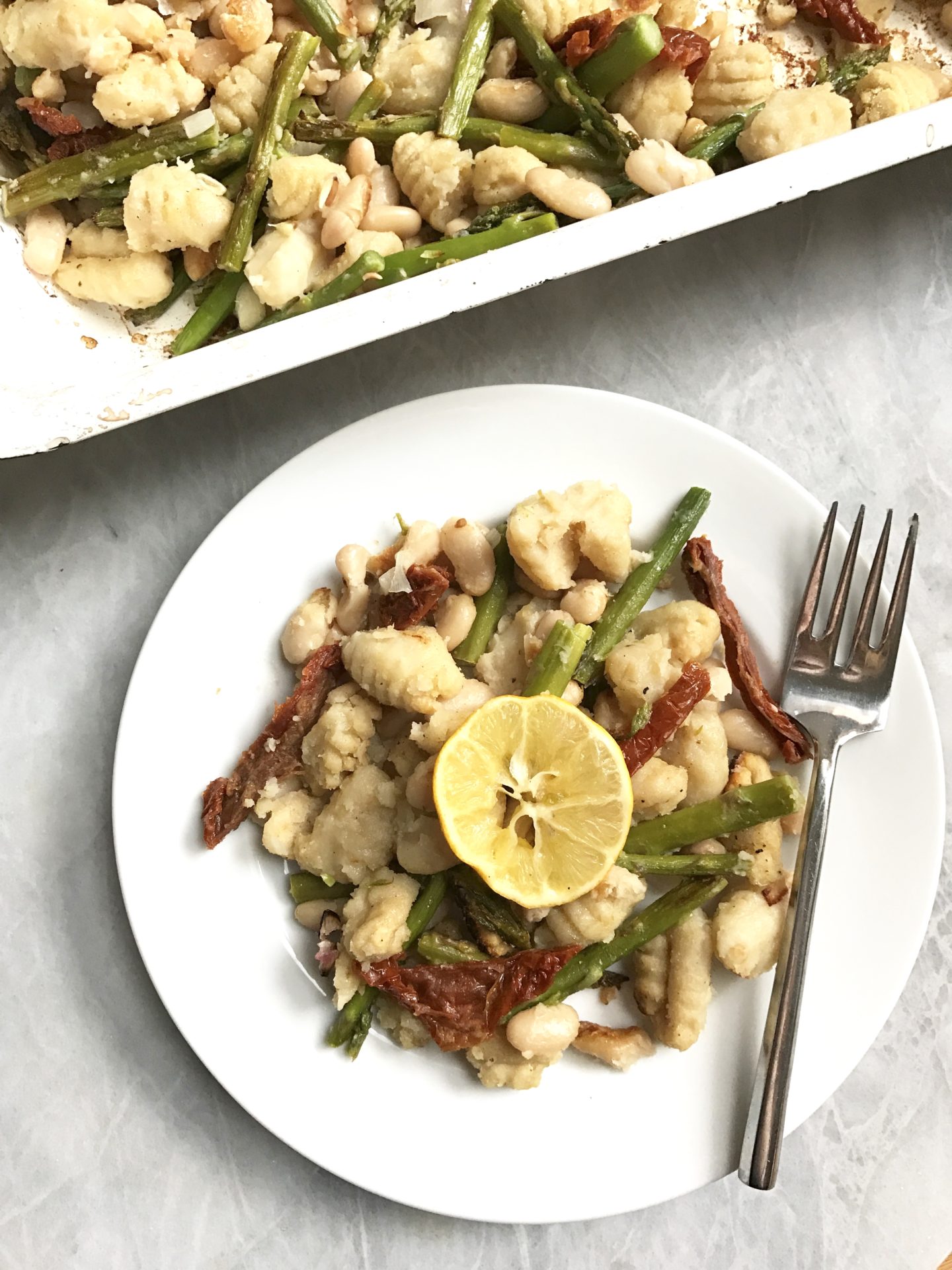 One Pan Baked Gnocchi
2017-02-08 08:59:23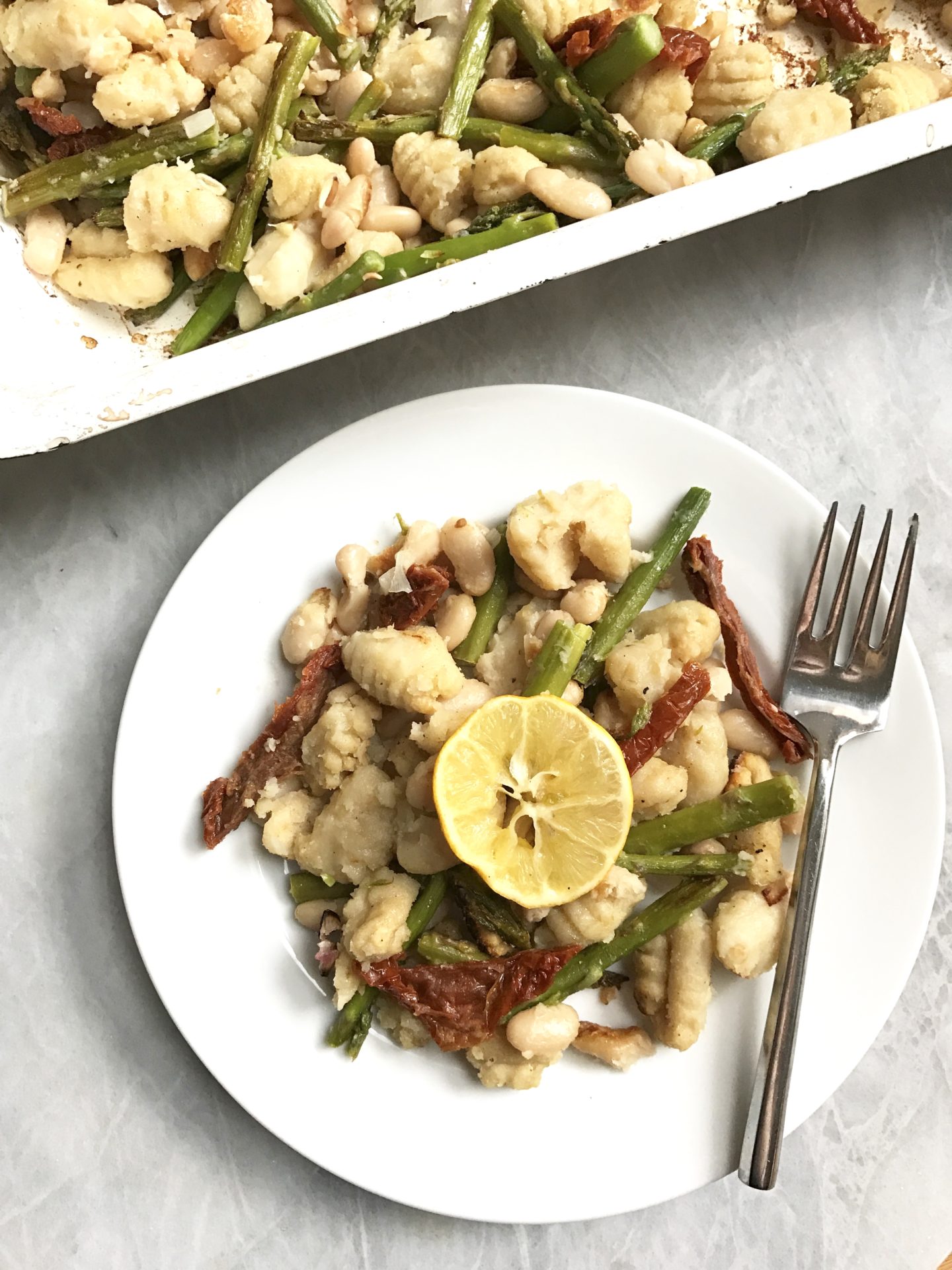 Ingredients
One Shelf Life Packaged Gnocchi*
1 Pound Asparagus
1 15 oz Can of White Beans
1/4 Cup Sun Dried Tomatoes
2 Lemons
1 Cup Chopped Shallot
1 Tablespoon + 1 Teaspoon Olive Oil - Separated
1 Tablespoon Nutritional Yeast
1/2 Tsp Salt
1/4 Tsp Pepper
Instructions
Pre-heat oven to 425 degrees Fahrenheit.
Cut up your asparagus into bite sized pieces, chop your shallot & thinly slice one lemon.
Throw your gnocchi, asparagus, shallot, lemon, beans, one tablespoon olive oil, salt and pepper in your pan and mix to combine.
Place in oven and let cook for 18-20 minutes.
Meanwhile, slice your sun dried tomato.
After 20 minutes, take out your gnocchi and juice your other lemon into it as well as adding in your sun dried tomato, nutritional yeast, and teaspoon of oil. Mix to combine and serve!
Notes
*It is really important to buy shelf life gnocchi rather than fresh.
Plant Based Jane http://plantbasedjane.com/