Do you want to know something crazy? I have never ordered nachos at a Mexican restaurant before. It sounds strange I know, but before going Vegan nachos never interested me. I love chips, I love (vegan) cheese…It just is a combo that I never craved. Until now.
If you haven't noticed, I love to create creamy cheesy sauces using vegetables. Specifically, using Cauliflower. It is virtually tasteless when boiled down however adds a great creaminess which blends perfectly with other flavors.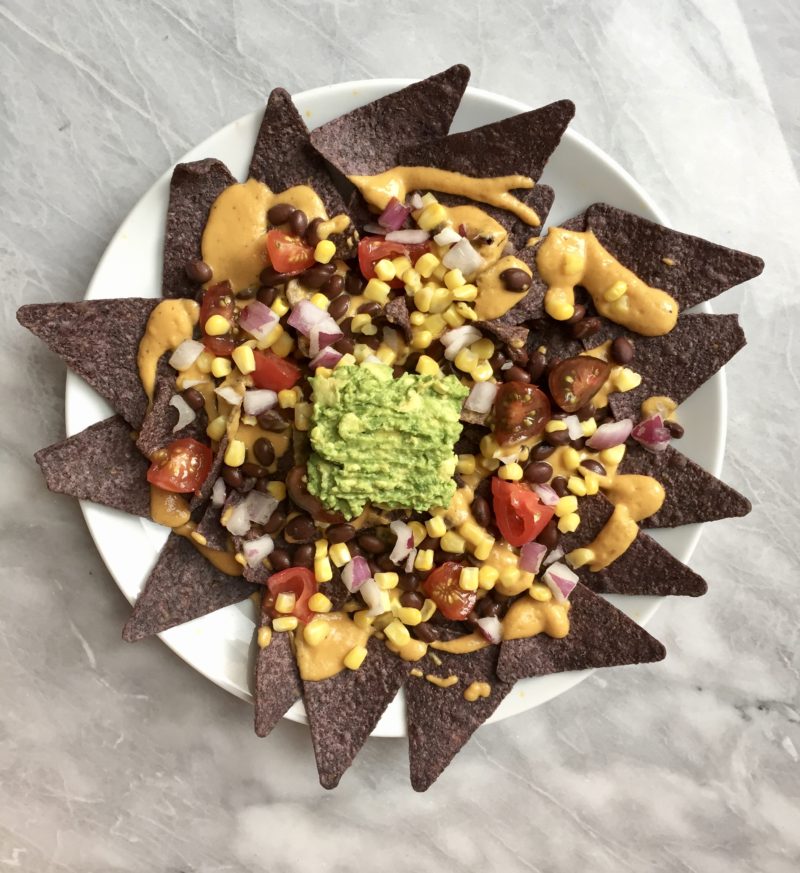 The truth: I hate red onions…I also hate cilantro. There is no cilantro in this recipe however it is totally optional. Red onions I added for color and also showing that this recipe is completely versatile for your needs. Picking out the red onion after taking the photos to eat this delicious plate of nachos was probably a hilarious sight but for me…it was NEEDED!
So I guess it's safe to say that I am now a nacho lover. Vegan Queso & Chips for life. This cheese could also go in burrito bowls, tacos, eat it with a spoon (do it.)…the possibilities are endless!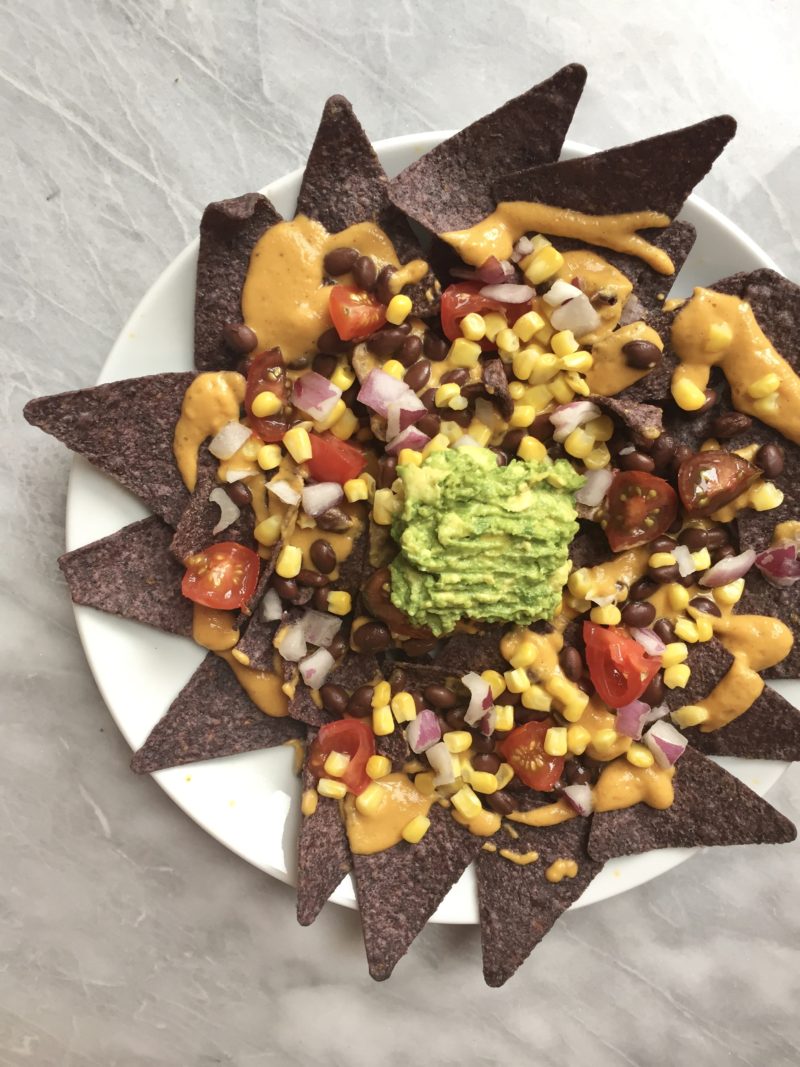 If you make these remember to tag me on Instagram so I can see: @plantbasedjane
Vegan Loaded Nachos
2016-11-03 09:27:40
Vegan Nacho Sauce
1 Cup Cauliflower Florets
1/4 Cup Carrots (Cut into quarters)
1/4 Cup Diced Red or Yellow Pepper (Approximately one sweet pepper)
1/2 Small Jalapeño Pepper
1/4 Cup Unsweetened Plant Milk (I use Soy)
1/4 Cup Nutritional Yeast
3 Tablespoons Juice from Pickled Jalapeños (I actually tried pickle juice too and it worked fine. If using pickle juice also add a dash of cayenne pepper)
1/2 Tsp Smoked Paprika
1/2 Tsp Chilli Powder
1/2 Tsp Salt
1/4 Tsp Pepper
Nacho Toppings
As much chips as you want! CHIPS ARE AMAZING. In reality I probably used 3/4 bag of Garden of Eatin' blue corn chips - 8 oz bag
1 Cup Black Beans
1 Cup Cooked Corn
1/2 Cup Diced Tomatoes
1/4 Cup Red Onion
2 Tablespoons Cilantro (Optional)
1/2 Avocado
1/2 Juice of Lime
1/4 Salt & Pepper (For Avocado Mash)
Instructions
While a pot filled with water is coming to a boil, start cutting up your cauliflower, jalapeño, carrot & pepper.
When water comes to boil, add cauliflower, jalapeño & carrot and let cook until tender.
As the vegetables cook, start prepping your nacho toppings.
When vegetables are tender, drain and add them to blender with soy milk, nutritional yeast, diced pepper, smoked paprika, chili powder, salt, pepper and pickled jalapeño juice. Blend until combined.
Assemble your chips and add you nacho cheese then toppings.
Mash Avocado in a small bowl or in the shell itself. Add salt, pepper & lime juice and add to the top of nachos.
Enjoy!
Plant Based Jane http://plantbasedjane.com/