I rely on packed meals for many different instances. School, family gatherings, road trips etc. As a Vegan on the road or in public settings surrounded by (normally) non – Vegan options, it's important to ALWAYS be prepared.
Lately, I have been showing you guys on my Instagram my packed lunches, and a bunch of you said you'd be interested in seeing more. So I decided to start a continuous series on my blog of different easy packed lunches.
I decided to start out pretty basic with some chickpea "tuna salad" pinwheels. This is a pretty popular recipe among us Vegans but I decided instead of putting it on some toast, to make it fun and wrap it up in a tortilla.
I also paired it with some edamame hummus, which you can find the recipe for here, and some freeze dried fruit & beets to add as chips. Obviously you can add tortilla chips, fresh veggies, crackers etc. to dip but I just wanted to add something different.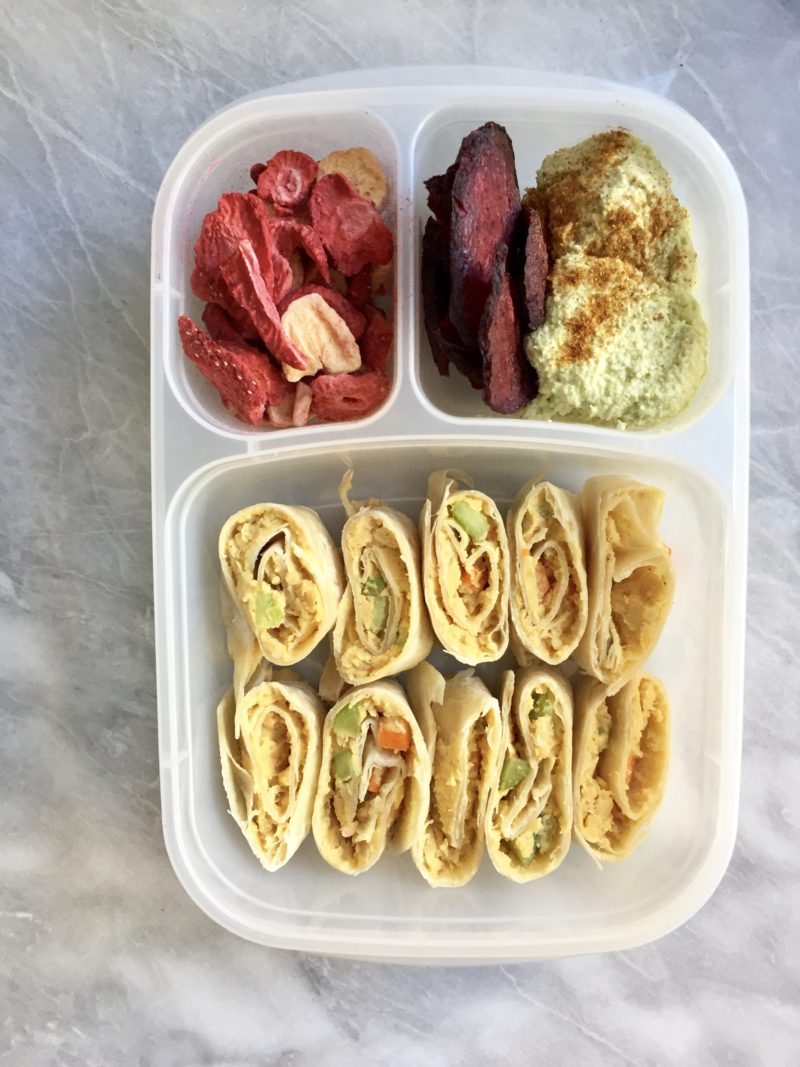 I like using freeze dried fruit opposed to fresh fruit because I love the crunch and I am not a big fan of room temperature fruit. If you are interested in freeze dried fruit, make sure the fruit is the ONLY ingredient in the package. I love crunchies
As for the containers I use, I found them on amazon here.
If you make this don't forget to tag me on Instagram!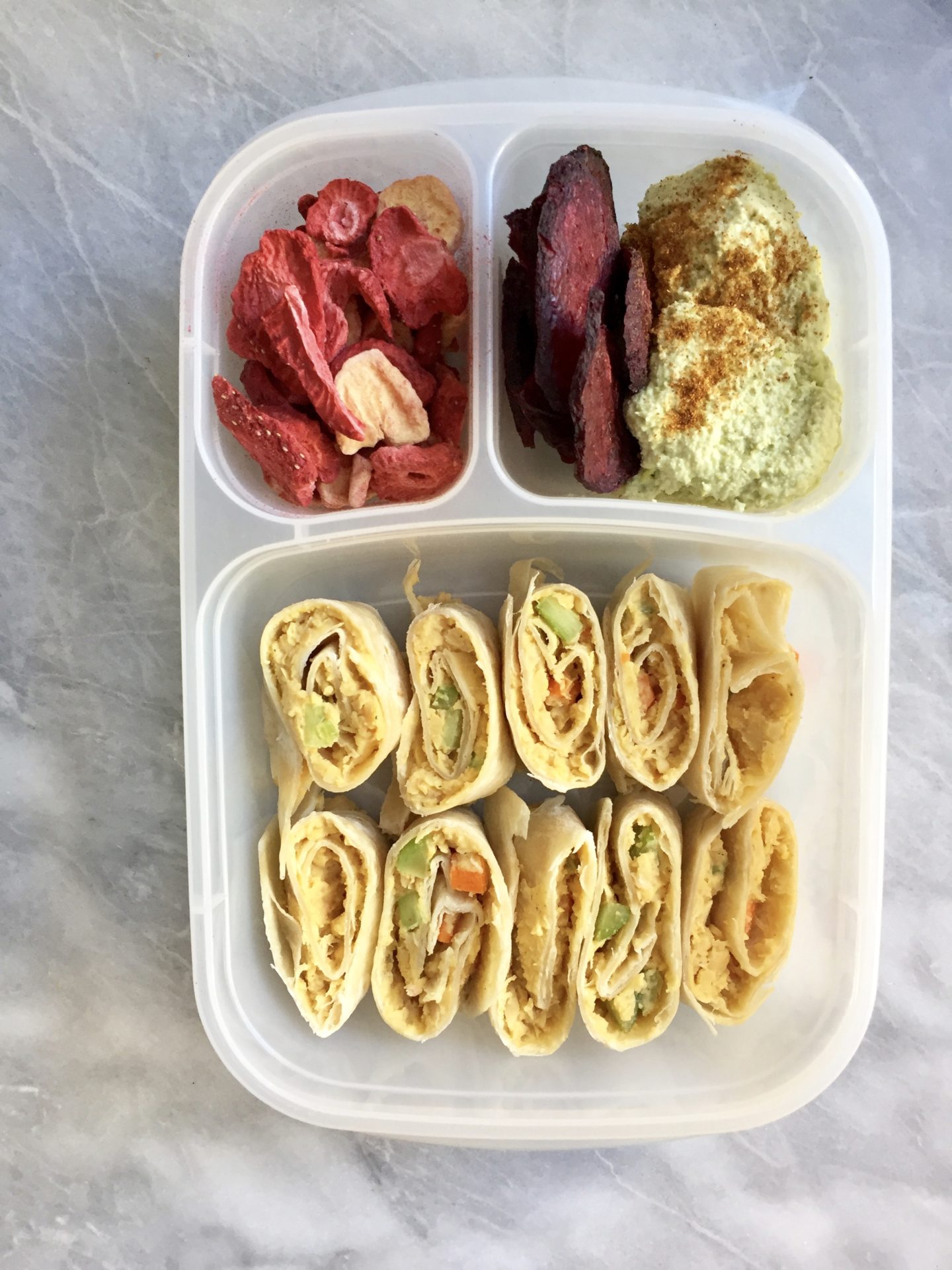 Chickpea "Tuna Salad" Pinwheels
2016-10-18 09:55:10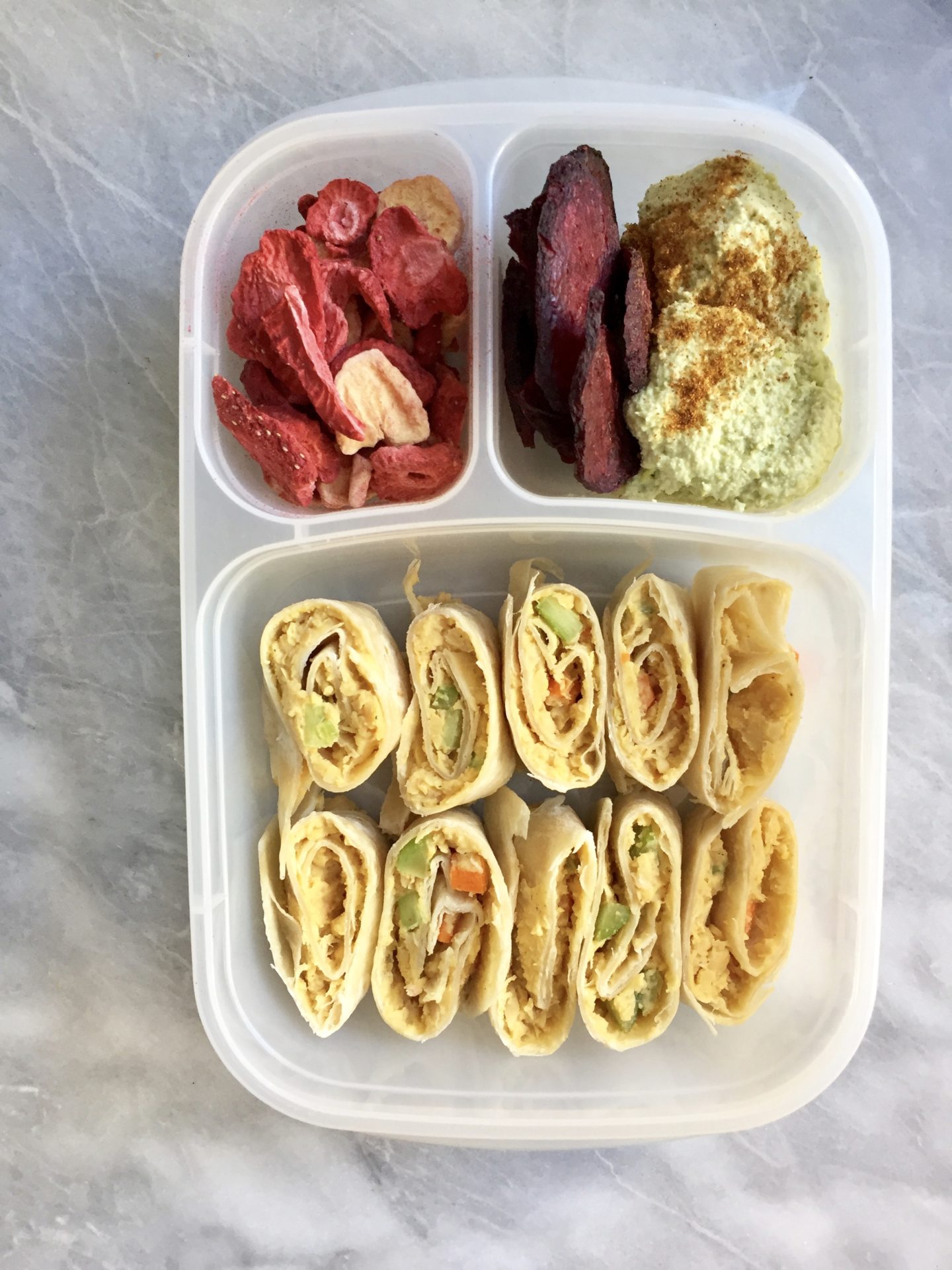 Ingredients
3/4 Cup Cooked & Drained Chickpeas
1 Tablespoon Vegan Mayonaise
3/4-1 Celery Stalk
3/4 of a Carrot
1 Tablespoon Yellow Mustard
1 Tsp Hot Sauce (Your favorite, I love Buffalo)
Splash Red Wine Vinegar
1 Large Tortilla (Or two small)
Instructions
After washing and draining your chickpeas, transfer them to a bowl. Mash with a fork until well combined. I like to leave it a bit chunky but it's completely up to you.
Finely chop your carrot and celery and transfer to bowl of mashed chickpeas, mix to combine.
Add in your mayonnaise, mustard, hot sauce & red wine vinegar and mix to combine.
Lay out your tortilla and evenly spread your chickpea mix around. Leave around 1/2 inch space around the tortilla for rolling.
Fold in the tortilla sides and roll up into a burrito/wrap formation. Note that obviously your pinwheels will be on a smaller scale.
Cut up into pinwheels (Imagine how you would cut sushi).
ENJOY!
Plant Based Jane http://plantbasedjane.com/