If you have noticed, my blog is 100% free from any recipes that involve nuts. That is because I am allergic to peanuts and tree nuts! When becoming Vegan, I noticed that almost all of "cheesy" pasta sauces had a base of cashews. That can be super frustrating to someone (like me) who wants to enjoy creamy sauces or Vegan cheeses but can't because a lot of them are nut based.
So since we are nut-free here on Plant Based Jane I wanted to bring out the handy cauliflower that worked so well in my last pasta recipe, and show you how to enjoy creamy pasta dishes that could work for someone who has the same allergy.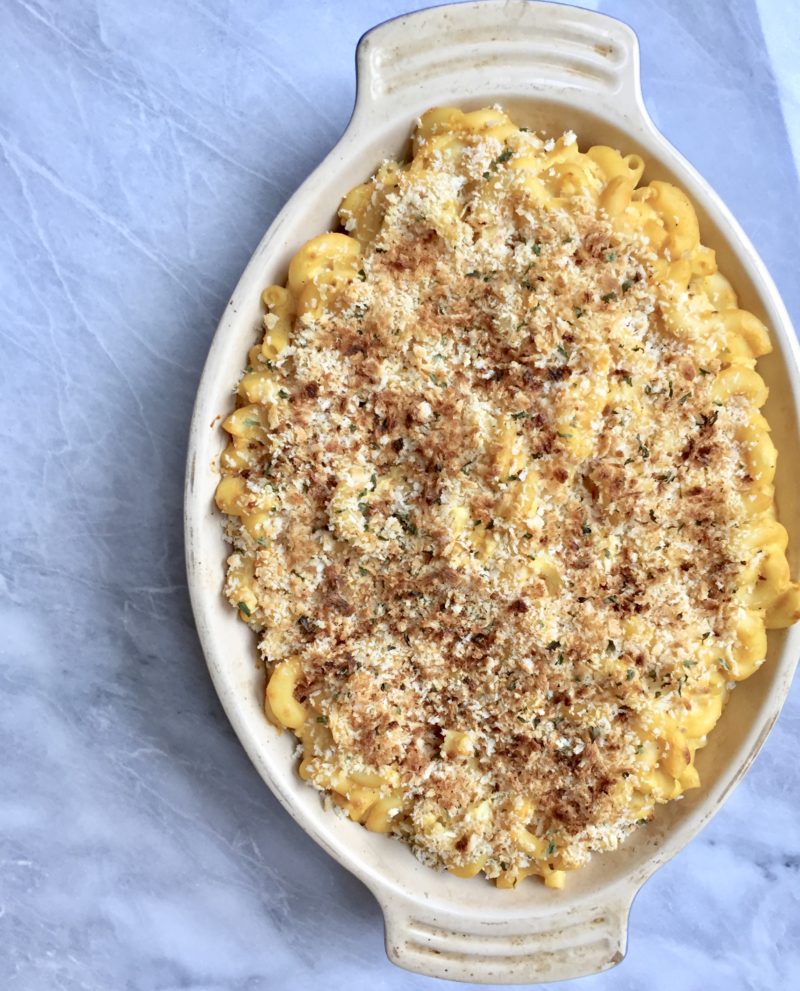 Mac N Cheese is definitely my favorite comfort food. There is nothing better than a nice bowl of it while sitting on the couch watching a movie after a long day.
However Mac N Cheese wasn't a dish I would gravitate to often because it was so high in fat…And I was at a point in my life where I feared carbs. I am glad I don't think this way anymore although I am still mindful about my fat intake.
Cauliflower is packed with so many beneficial nutrients and becomes super creamy when it's blended up.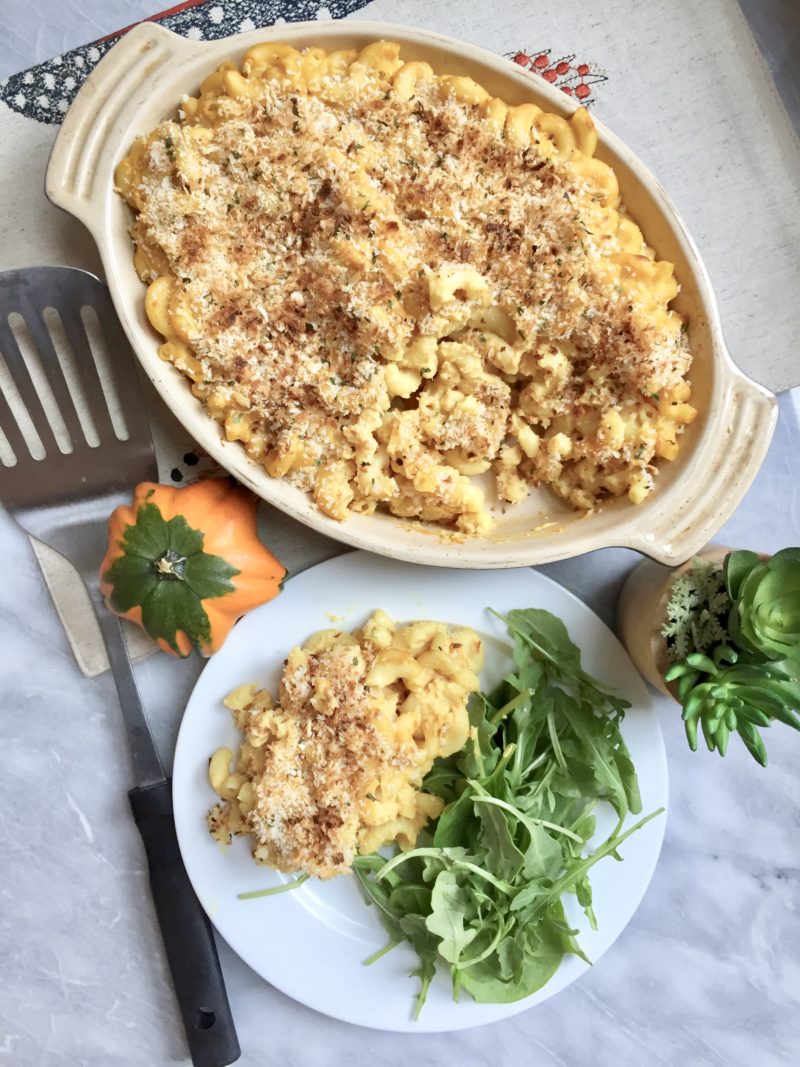 The great thing about this "cheese" sauce is that it's made up of vegetables and spices. So you can eat as much of it and not feel super lethargic post-meal. Most of the Vegan Mac n Cheese recipes I see on the internet consist of carrots, onions, potatoes, and cashews. This sauce is based off of Cauliflower & Onion.
It's very similar to my Cauliflower Alfredo Sauce but with a few twists.
My favorite variation of Mac N Cheese is when it's baked in the oven with breadcrumbs! I always prefer Panko over standard breadcrumbs because they seem a bit crunchier and not as fine in texture.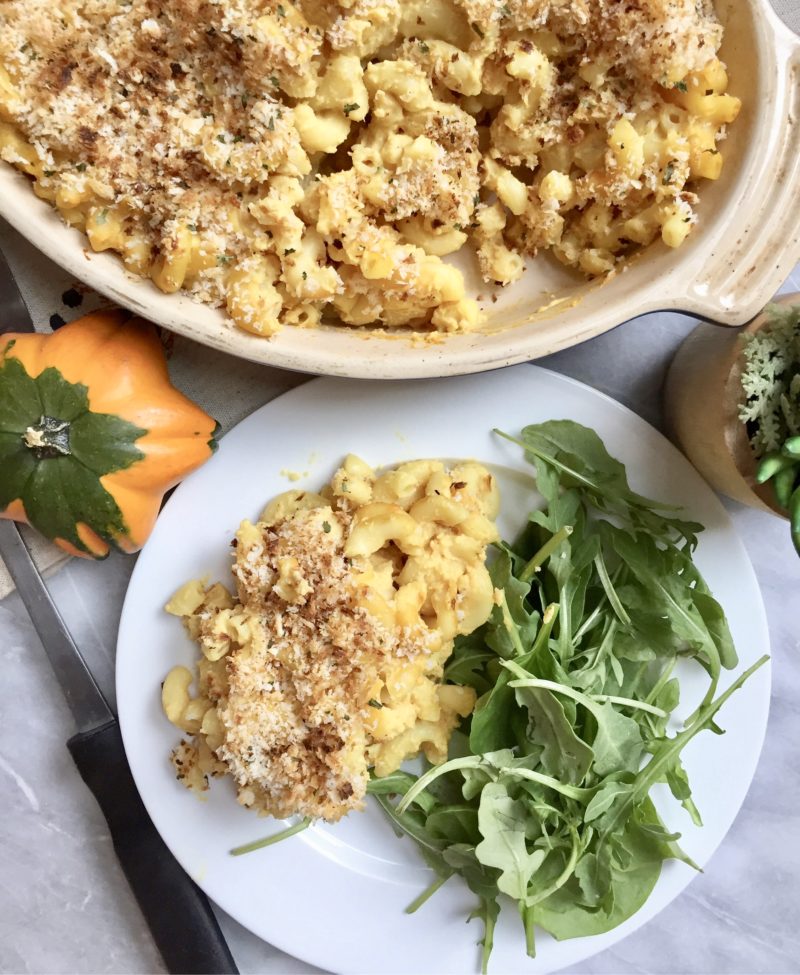 I hope you enjoy this recipe and remember to tag me on Instagram (@plantbasedjane) if you make it so I can see!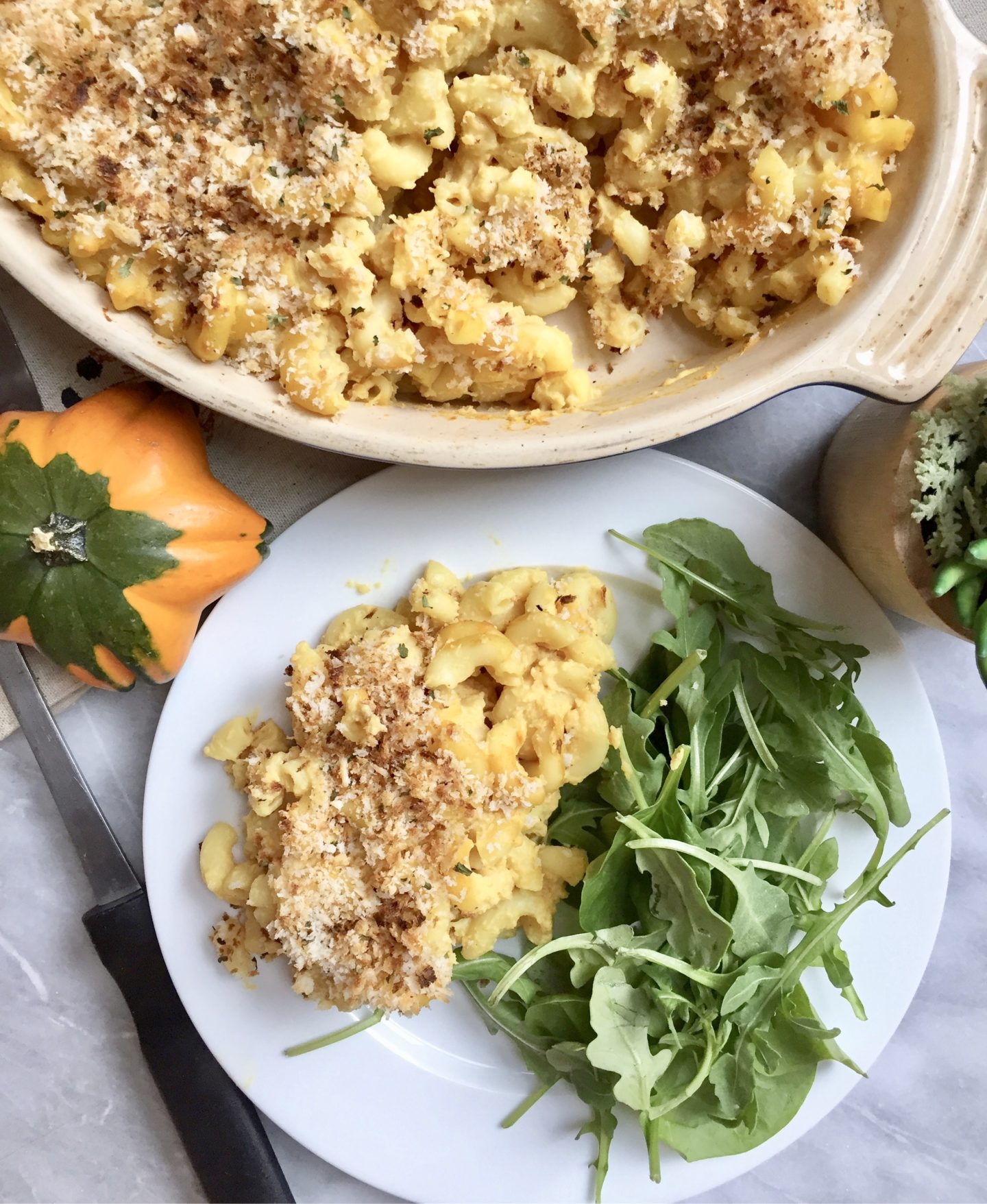 Cauliflower Sauce Mac N Cheese
2016-10-09 11:23:38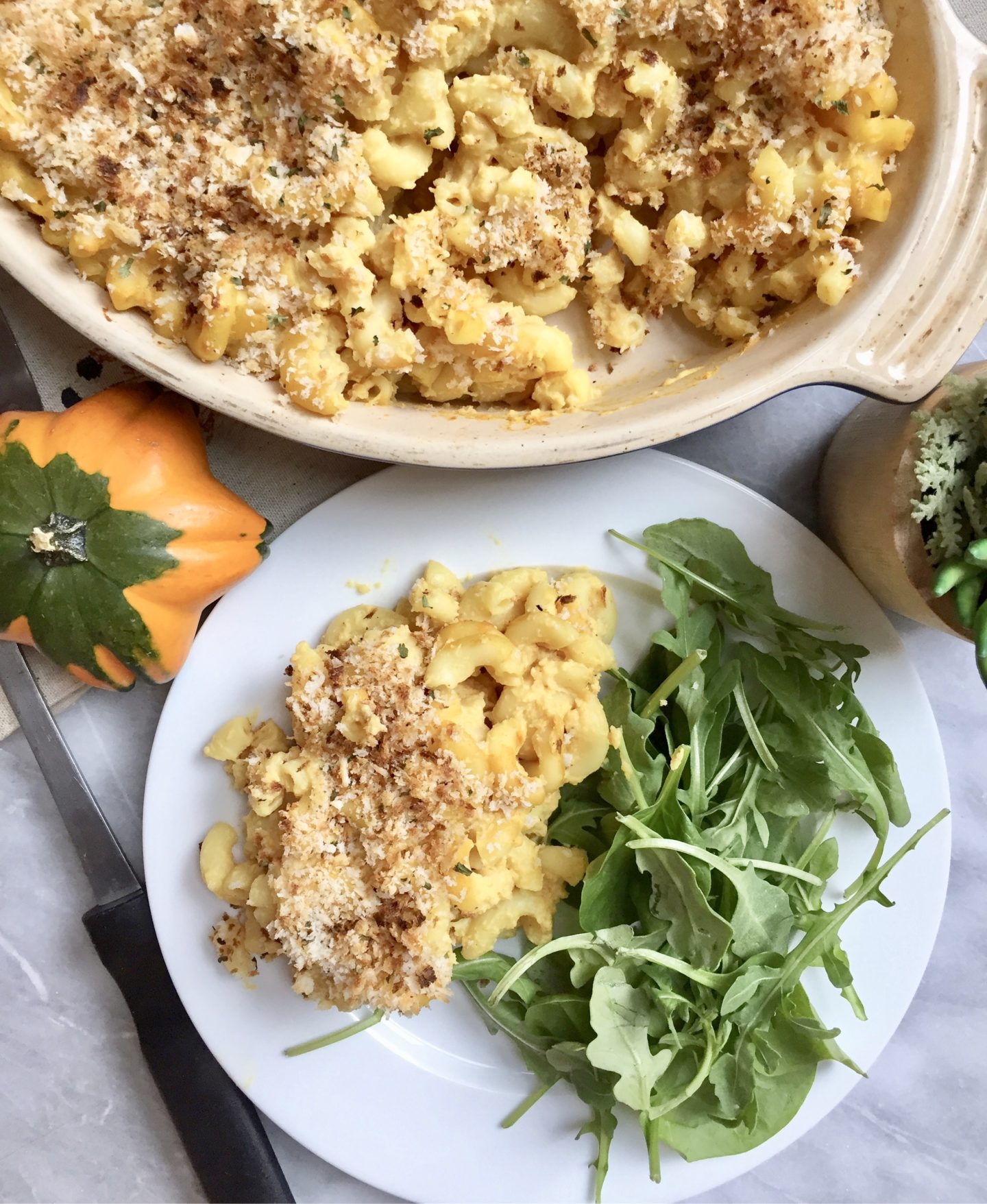 Serves 4
Ingredients
Half of a Medium Cauliflower Head
One Medium Onion
4 Cloves Garlic, Chopped Finely
2 Cups Macaroni Pasta (Uncooked)
1 Cup Plant Milk (I use Soy)
1/4 Cup Panko Bread Crumbs
2 Tablespoons Vegan Butter
1/2 Vegetable Bullion Cube
1/2 Cup Nutritional Yeast
2 Tablespoons Yellow Mustard
3 Tablespoons Tomato Paste
1/2 Teaspoon Turmeric
1/2 Teaspoon Salt
1/2 Teaspoon Garlic Powder
1/2 Teaspoon Onion Powder
1/4 Teaspoon Pepper
1 Teaspoon Dried Parsley Flakes
Instructions
Chop up your cauliflower, slice your onion thinly, and finely chop your garlic. Set aside.
Heat up a sauté pan on low-medium heat with vegan butter and add your onions & garlic. Let cook until caramelized: Around 20 minutes.
While your onions are cooking, boil a large pot of water. Once the water is boiling, add your bullion cube and let dissolve. Then, add your cauliflower and let cook until tender: 10-12 minutes.
Once your onions, garlic & cauliflower are done cooking transfer them to a blender.
If you wanted to also cook your pasta at the same time as your Cauliflower & Onions then go ahead. To making the cleaning process easier I wait to cook the pasta until after the cauliflower is done so I can use the same pot and refill it with water.
Add your soy milk, turmeric, mustard, nutritional yeast, salt, pepper, garlic powder & tomato paste to blender and combine until smooth. If sauce seems too thick then add more soy milk.
Add your pasta to an oven safe dish and add "cheese" sauce on top. Mix around and set aside.
Combine in a bowl your panko, parsley flakes & onion powder and mix around until combined.
Sprinke your bread crumb mix onto your mac n cheese and put in the oven on high broiler and watch carefully until the bread crumbs have browned nicely.
Take out and enjoy!
Plant Based Jane http://plantbasedjane.com/