I have recently been starting to use corn starch a lot in my cooking, because I love the way it can thicken up a sauce and add such a luxurious feeling to so many dishes.
Tofu is a HUGE staple in my life, and I always have 1-2 blocks of it in my fridge. Previous to going Vegan, I literally could not understand Tofu. It creeped me out. I would laugh at the thought of eating Tofu. Funny how things change.
I use Tofu for so many dishes because it is SO versatile. Like for instance, did you know tofu could help make an amazing Vegan ricotta? Don't believe me? Check out a post I did here.
Anyways, back to business.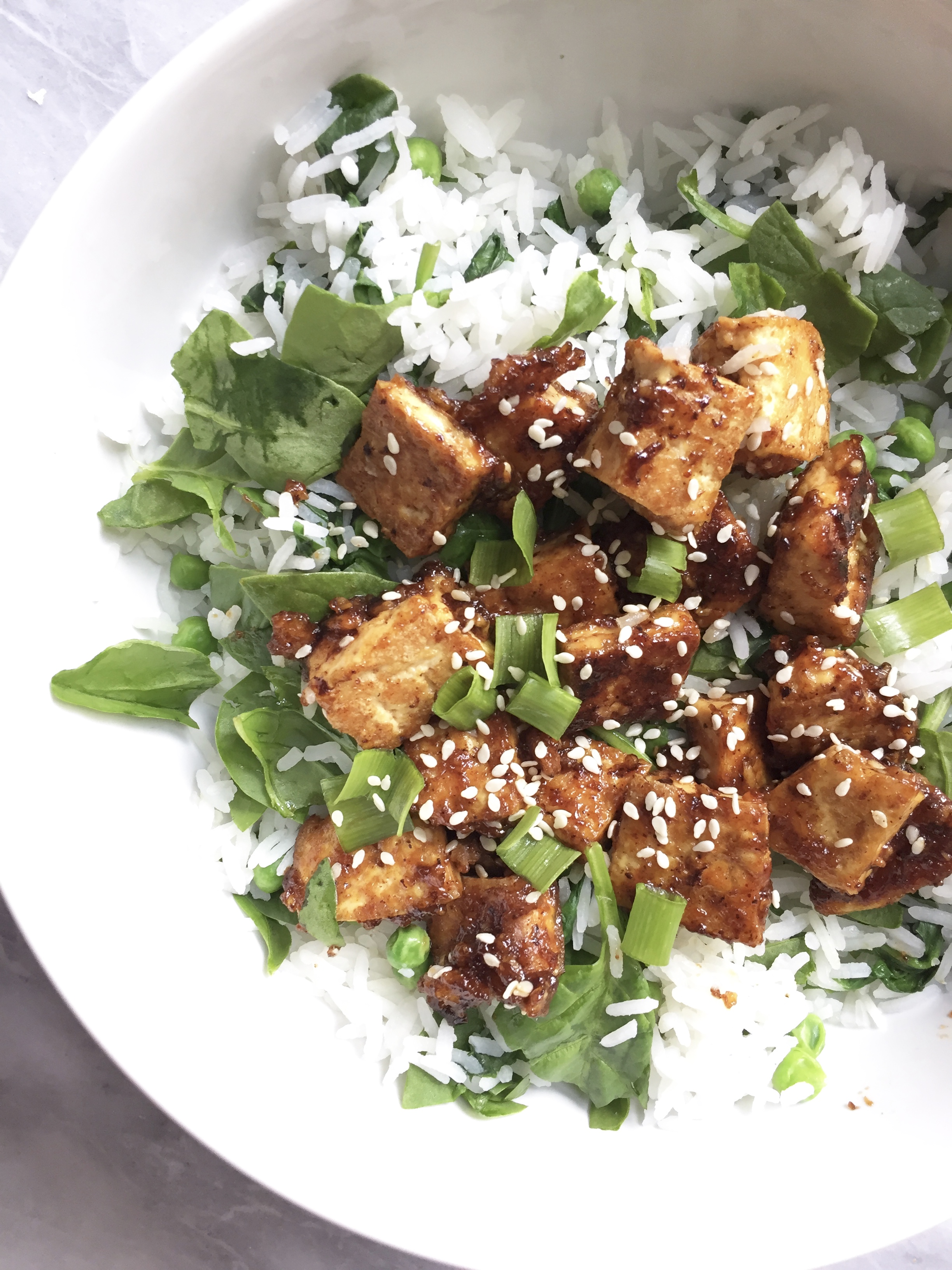 Usually people like to recommend to marinate your tofu in the sauce before cooking (I even do! for certain recipes). However, for this specific recipe it's important to let your tofu fry up first to develop that crust then add the sauce after. The corn starch allows for all the flavors to get sucked up by the tofu pretty quickly and the flavor is absolutely incredible.
This tofu has that "sticky" concept and provides such a good component of flavors to some jasmine rice and veggies. Pictured I used spinach & peas. A perfect well balanced meal that is SO GOOD!
Remember if you make this, upload it to instagram and tag @plantbasedjane so I can see!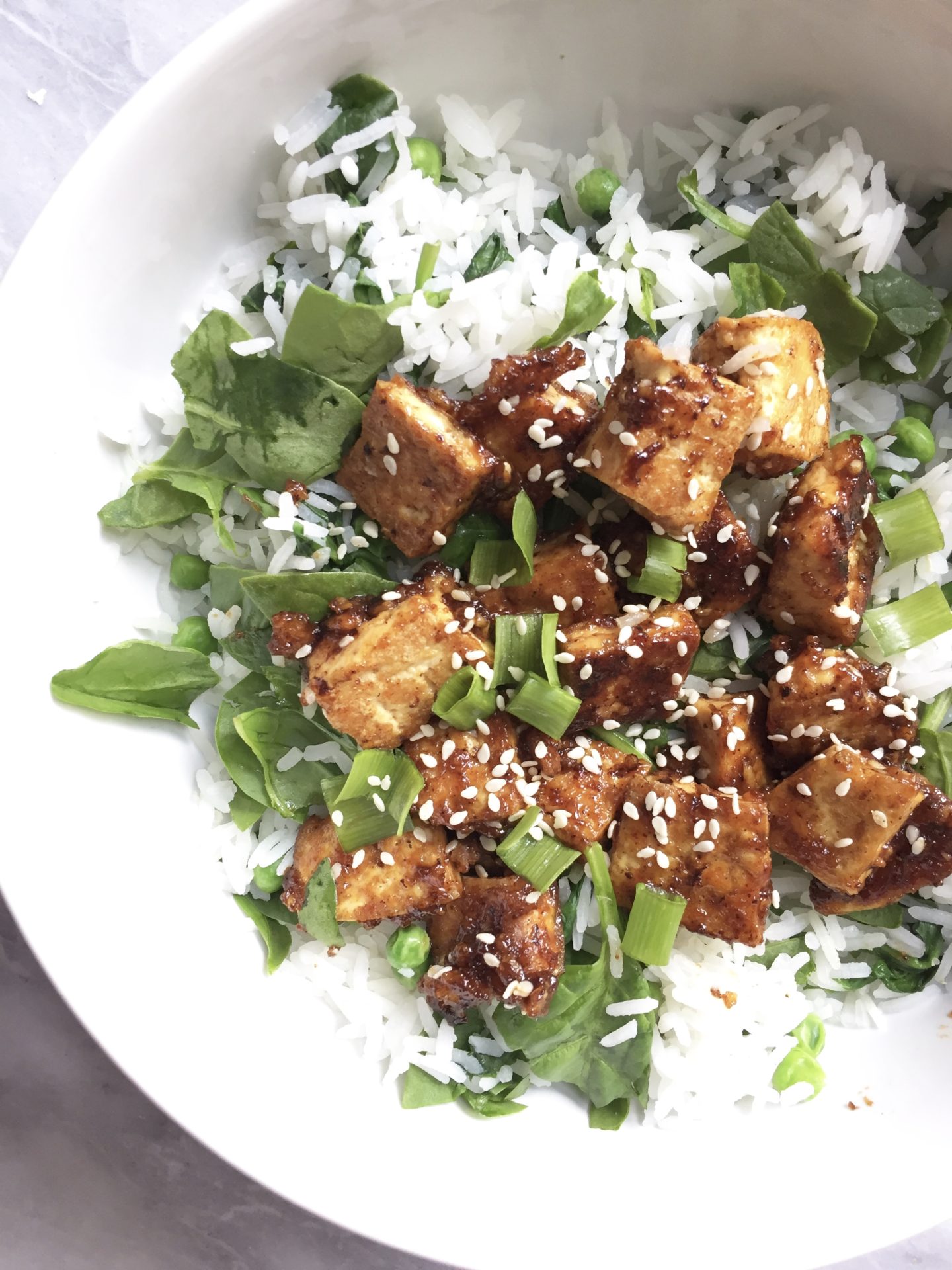 Orange Glazed Tofu
2016-09-26 11:18:23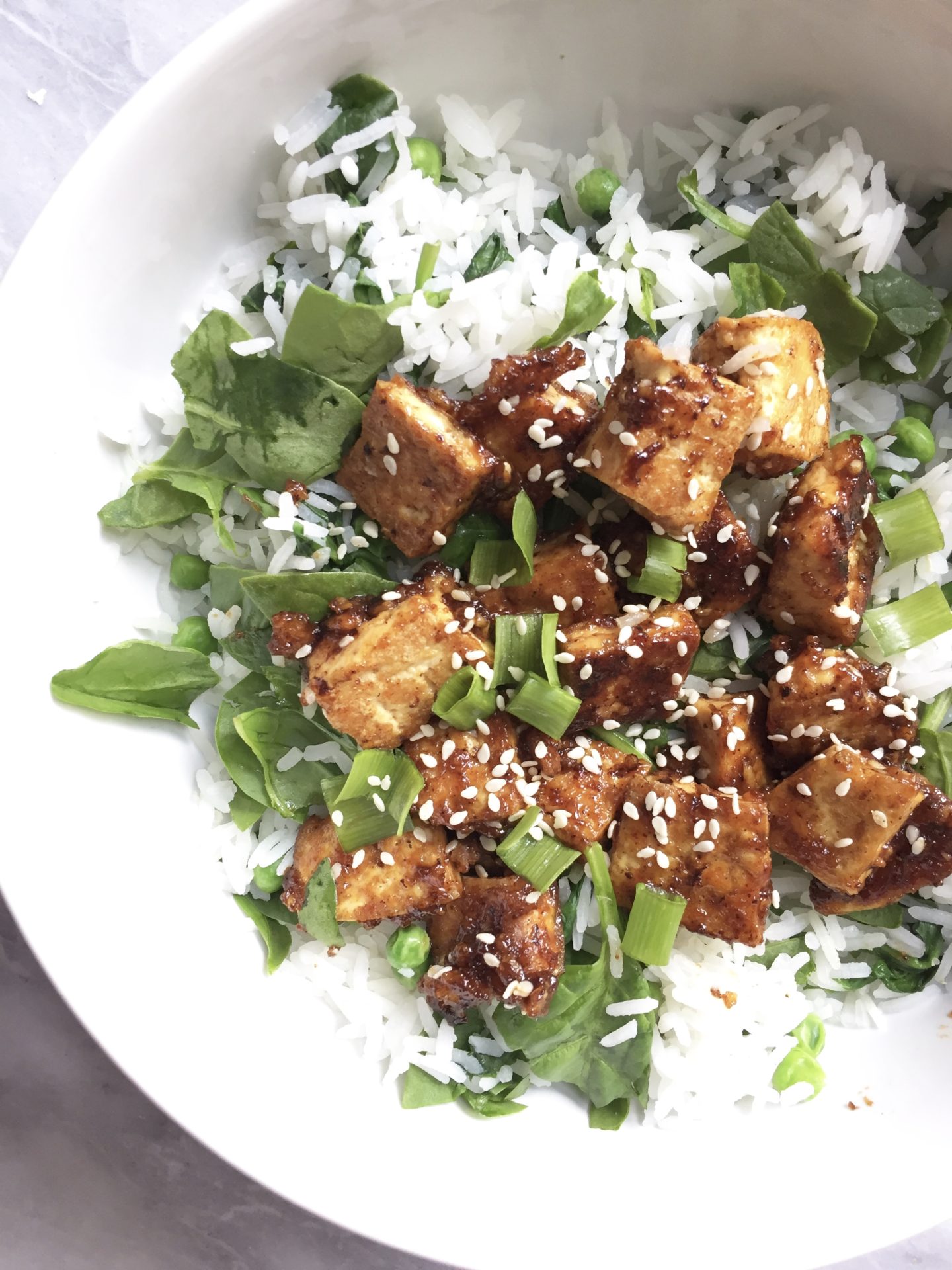 Serves 3
Ingredients
1 Block Firm Tofu - Cubed
Non stick oil spray (Unless you have non stick pan)
2 Tablespoons Nutritional Yeast
1/3 Cup Fresh Orange Juice (I prefer juicing my own)
1 tsp Orange Zest
3 Tablespoons Soy Sauce
1 Tablespoon Rice Vinegar
1 Tablespoon Maple Syrup
1 Tablespoon Sesame Oil
2 Crushed Garlic Gloves
2 Tsp Corn Starch
Instructions
Press tofu to release water (10 minutes) then cut into cubes
In a small bowl add your orange juice, zest, soy sauce, rice vinegar, maple syrup, sesame oil & crushed garlic cloves - set aside.
Heat pan on medium heat and add your non stick oil
Lay tofu down on one side and top the side up with half of your nutritional yeast (This will add not only a great crust, but also flavor & nutrients).
Cook 2-3 minutes before flipping and add remaining nutritional yeast - cook an additional 2-3 minutes.
Add sauce and mix around - then add your corn starch.
Mix around so the corn starch is incorporated into the sauce and becomes thick.
Add to rice, noodles, etc. The options are endless!
Plant Based Jane http://plantbasedjane.com/