Hello everyone! I am back with another recipe for you guys. Something that I absolutely love are lettuce cups. Iceberg lettuce is crunchy, flavorful, and perfect for little cups to add an array of toppings to. As a kid  I was never able to eat lettuce cups because usually they were all made with peanut butter, or some type of nut (allergic). So I decided to make one that was nut allergy friendly but still had amazing flavor.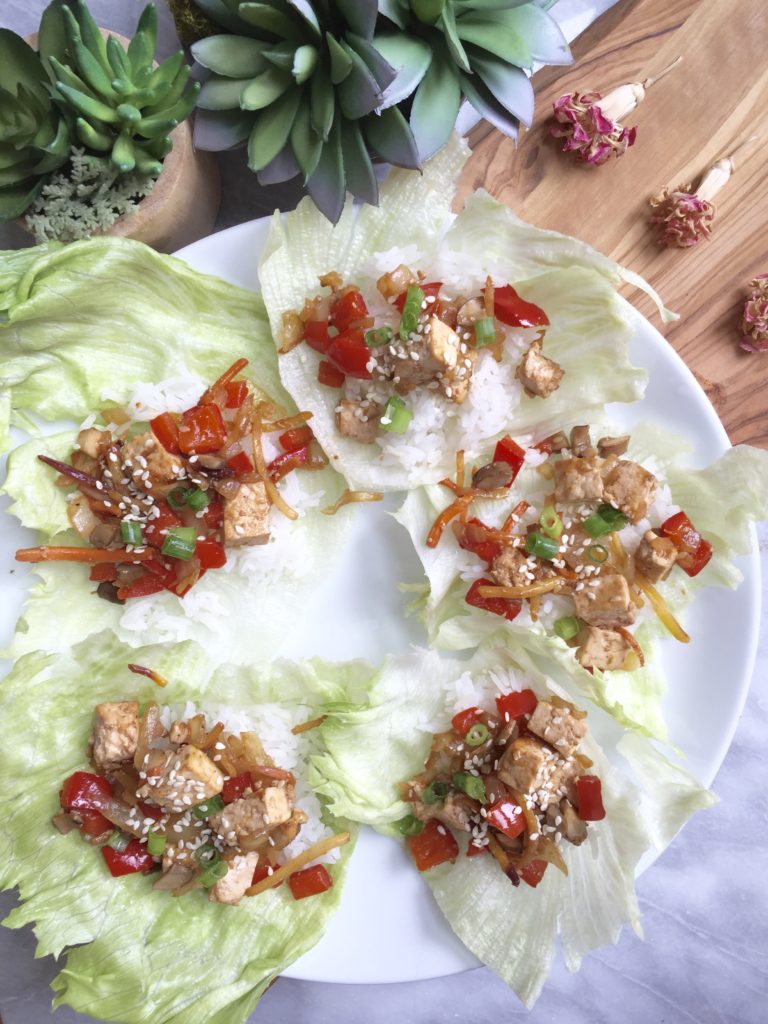 Usually lettuce ups don't come with rice , but I like them for added carbohydrates and to make them more filling.
Makes 8-10 lettuce cups
Ingredients:
1/2 finely chopped red bell pepper
1/2 finely chopped onion
2 green onions
4 finely chopped mushrooms of choice (I had baby bella in my house)
1/3 block cubed extra firm tofu
1/3 cup shredded carrot
2 tablespoons tamari or soy sauce
1/4 teaspoon sesame oil
1/2 teaspoon corn starch
1/4 teaspoon salt & pepper
1/2 teaspoon garlic powder
1-1/2 cups cooked jasmine rice
Directions: 
Chop up veggies, tofu & green onion and put aside
Cook rice according to package (I use frozen from Whole Foods which takes about 2 minutes – I highly recommend).
Get your lettuce cups prepared and wash thoroughly
Heat pan on medium high and add water or non stick oil spray and allow to heat.
Add peppers & onions and stir until fragrant and onions are translucent. – About 3-4 minutes.
Add Tofu and stir for another 2-3 minutes
Add in mushrooms & carrot and stir until mushrooms have cooked down – Then add garlic powder, salt & pepper.
Meanwhile in a small bowl combine your soy sauce, sesame oil & corn starch, mix to combine, and immediately add to stir fry. Cook for another remaining 2 minutes.
Evenly layer rice on each lettuce cup then top with stir fry. Sprinkle green onions on top & even sesame seeds for added flavor.
ENOY!
I hope your enjoy this recipe! It truly is so easy to make and is so delicious! Veganism is so simple but satisfying and that is what my blog is meant to show.
xo,
Jane
Instagram: Plantbasedjane