With school being back in session, we all experience the sometimes rather long block of classes that we may have in-between meals.
It is important to have snacks that are healthy which is why I love to pack my own. If we pack our own snack we will eat it and not be inclined to possibly buy a bag of chips or candy at the drugstore or vending machine. I wanted to show you some snacks you can easily make yourself or healthy pre-packaged snacks that are super delicious as well.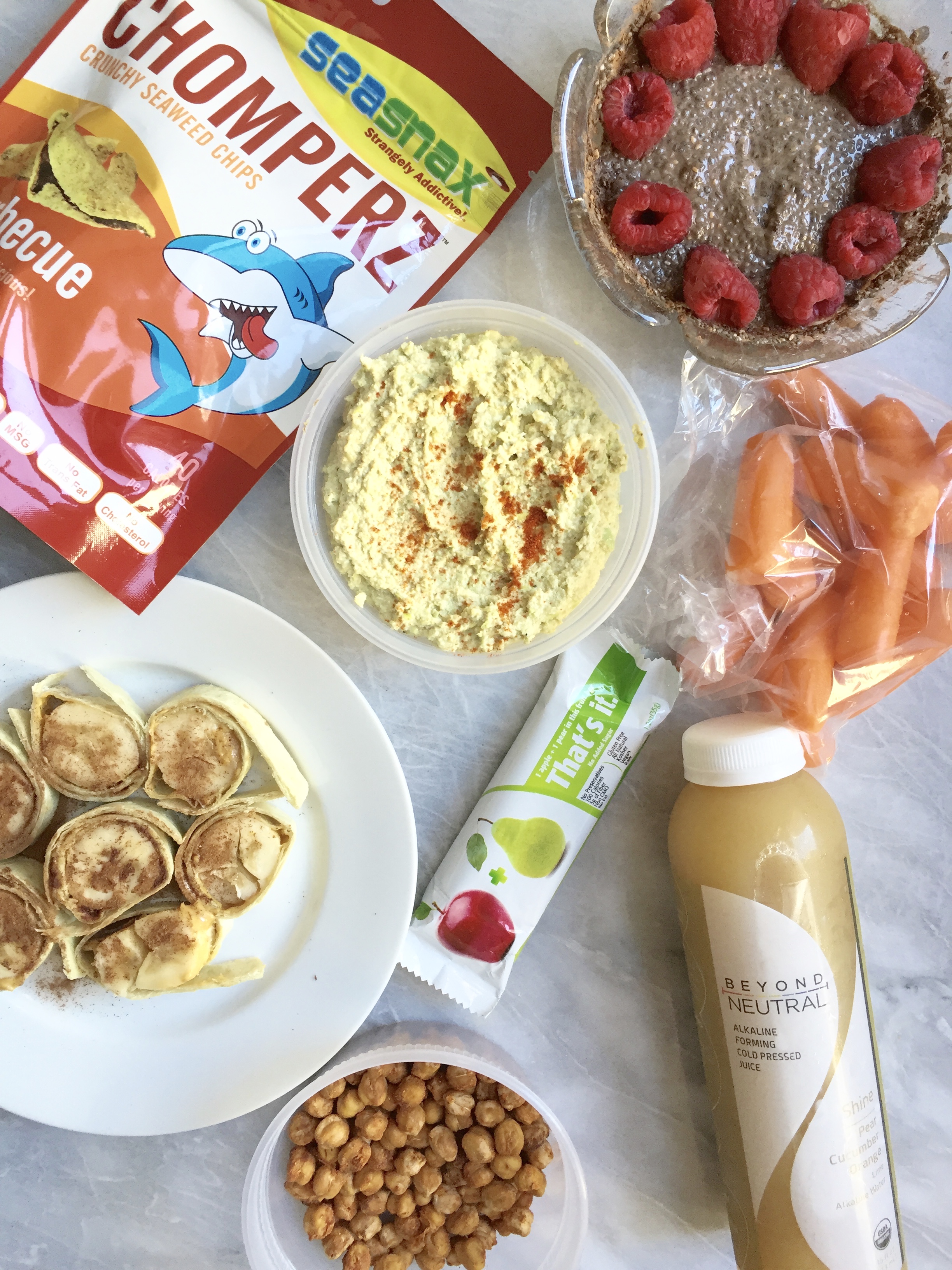 Let's start with my favorite healthy store bought snacks:
Seasnax: I LOVE SEAWEED SNACKS! They're so salty, crunchy, and satisfying. I specifically love Seasnax because they have an awesome line called "chomperz" which genuinely taste like a potato chip with that seaweed twist. I love the BBQ flavor and they're definitely more filling than regular seaweed snacks. I like to bring these to have in-between classes (we get around 20 minutes) and I have had students amazed by how cool but healthy these are.
That's It! Fruit Bar: These completely raw vegan fruit bars are so amazing! They come in so many flavors and I usually carry one with me at all times. Not only have I used these snacks for school, but I have even brought them to two weddings I've attended this year to be prepared incase I can't find anything Vegan. I buy them by the box at my Whole Foods and each morning just throw one in my purse. My favorite flavor is pear & apple. Also what I love is that it only contains: Pears & apples. How healthy is that? They are also nut free!
Beyond Neutral Alkaline Forming Cold Pressed Juice: Juice is also a great pick me up in-between classes! I love Beyond Neutral because their flavors are all so tasty and they're an NYC based company (I'm Biased). Honestly though these juices are so tasty and are also a great accompaniment to any of these snacks pictured (If you don't feel like doing water).
Homemade Snacks:
Banana Sushi: Such a fun, sweet, savory & salty snack.
Ingredients:
1 Banana
1 tablespoon favorite nut butter
Tortilla of choice
Pinch of cinnamon (For end)
Directions:
Lay out tortilla and evenly spread your nut butter
Add Banana to bottom of Tortilla (You may need to cut off the ends if it doesn't fit, just snack on those too!)
Tightly roll tortilla and banana until they look like a big sushi roll
Cut evenly to make little sushi bites
Sprinkle Cinnamon on top
ENJOY!
Roasted Chickpeas: Such a great crunchy snack that will fill you up and be super satisfying. You can literally put any seasoning on roasted chickpeas, the possibilities are endless.
Smoked Paprika Chickpeas
Ingredients:
1 can rinsed & drained chickpeas
2 Tsp Smoked Paprika
1 Tsp Onion Powder
1/2 Tsp Salt
1/4 Tsp Pepper
Directions:
Pre-heat oven to 375 Fahrenheit
Put rinsed chickpeas in a bowl
Add seasonings and toss to combine
Pour onto cooking sheet lined with parchment paper and put in oven
Take out every 20 minutes to toss around
After an hour take them out to test to see if their crispy, if they need more time pop them in and check every 10 minutes
ENJOY!
Chia Pudding: A great snack that is super filling. Pack this either in a reusable container or mason jar and top with fruit/granola/nuts etc. Find the recipe here
Hummus & Carrots: Hummus is such a great snack! I love to pack it with carrots but of course you can use any veggies or crackers. Specifically, I love my recipe for edamame hummus. It is packed with protein and is super filling. It is a great twist on the traditional hummus. You can even make it oil free by substituting 1-2 tablespoons of water. Find the recipe here 
These are just some of the amazing snacks that are healthy and delicious you can bring with you to school or even work. It's not hard to be healthy in social situations if you come prepared. I hope you enjoyed this post and got some ideas! Look for a healthy school lunch post coming soon.
xo,
Jane