The infamous carrot hot dogs. Some people like them, some people hate them. I was skeptical in trying them but I did it on a whim and I LOVE THEM. It really comes down to how you cook the carrots and making sure they're well done enough to not be crunchy, and completely lose the carrot taste.
I also decided to make a couple variations of them. I made them plain, breakfast inspired, and philly cheese steak.
It's fun to have different variety and flavors to show how this is completely versatile and how you really don't need to eat meat to enjoy meaty flavors/textures.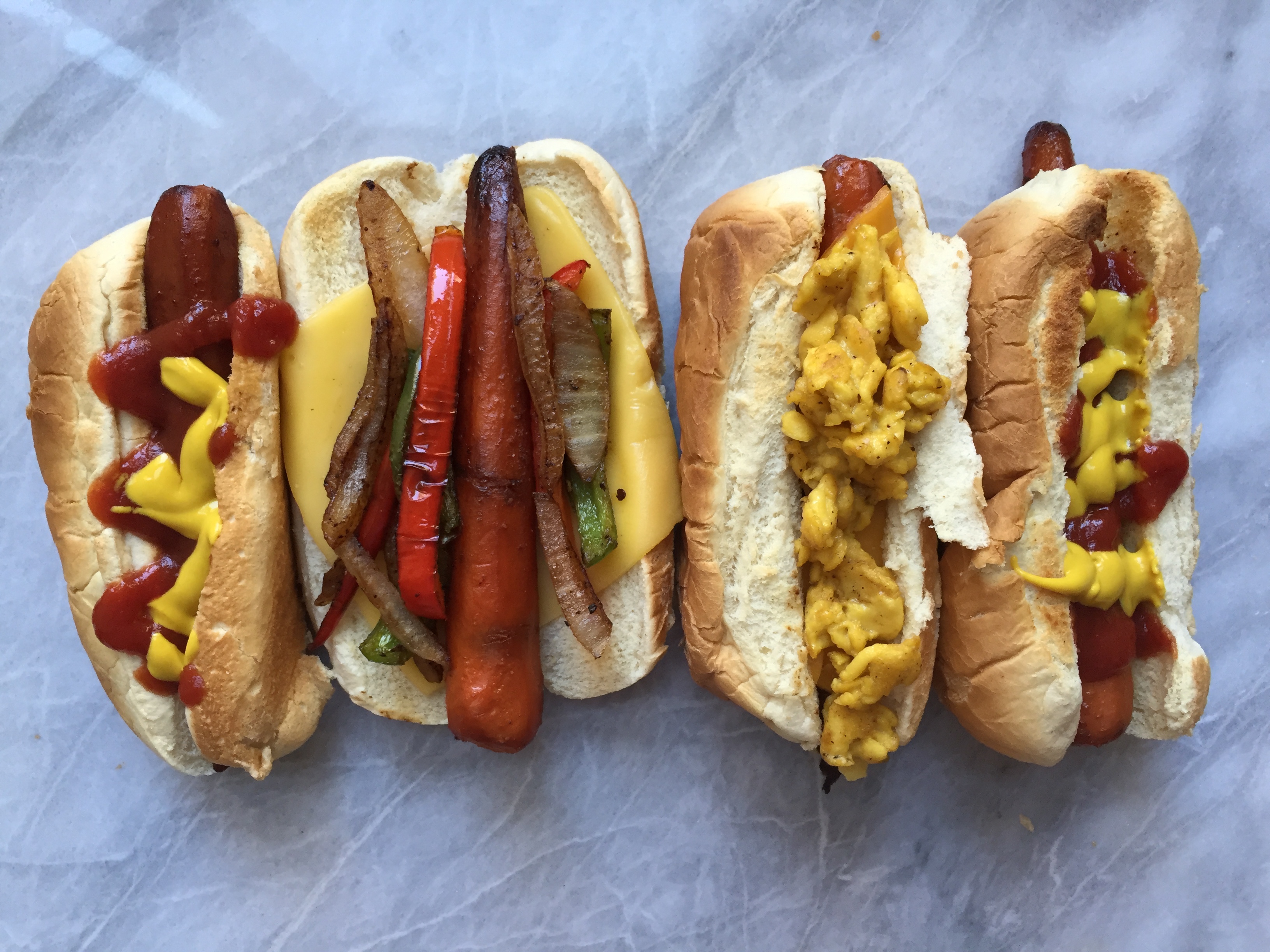 First, let's start off with the marinade for the carrot dogs. This is enough to make four dogs.
You will need:
2 tablespoons soy sauce
2 tablespoons liquid smoke
2 tablespoons maple syrup
1/4 teaspoon sesame oil
1/4 teaspoon salt & pepper
1/2 teaspoon garlic powder
1/2 teaspoon onion powder.
After peeling and cutting your carrots to fit your hot dog buns, boil them until fork tender. I made sure to boil them for 12-15 minutes so that they were super fork tender and wouldn't fall apart. It really comes down to making sure you boil them long enough so they don't have any crunch. After draining your carrots, marinate them in the sauce. I only left mine in for 1 1/2 hours for the purpose of the recipe and they came out perfect. You could totally do it for longer, or even overnight for maximum flavor. However, they were super flavorful in the amount of time I used.
After marinating the dogs, it's time to sauté them up!
When it comes to cooking the dogs, I found by sautéing them in about a teaspoon of water and some of the marinade made it super flavorful and browned perfectly. Cook for 5-8 minutes until browned. You don't want to cook them for too long since they have already been previously cooked.
For the breakfast carrot dog, you will need:
1/2 serving of Follow Your Heart Vegan Egg (1/4 cup water 1 tablespoon powder)
1/2 slice of your favorite vegan cheese (I used Follow Your Heart American Cheese)
Cook your egg to package instructions (6-8 minutes).
For the philly cheese steak one, you will need:
Thin sliced pepper & onion (I used about 5 thin slices of each)
Slice of favorite vegan cheese (I used Filed Roast Chao Original)
Once the dogs are done, as well as their toppings, put your oven on high broil. Add your dogs to parchment paper on a baking sheet and apply all your desired toppings (minus condiments)
Broil until cheese is melted and buns are lightly toasted.
Add whatever condiments you like! I added for the plain ones ketchup and mustard, and for the breakfast one I used hot sauce.
Enjoy! These are super tasty, I promise!